———
Phoenix, Ariz. (STN) — What comes to mind when you think about Thanksgiving?
Is it the golden smell of turkey roasting in the oven? The comforting and chaotic buzz of family chatter? The voice of your favorite football announcer coming from the TV?
For each of us, there is an element of Thanksgiving that we remember and cherish the most.
For Robin Reed, it's tradition.
Growing up with his mother, step-father, and four siblings in a predominantly white, Northern California neighborhood in 1960s America, there are parts of the Thanksgiving tradition Reed clearly remembers six decades later.
"[My step-father] came from a very large family," Reed says. "We would go on Thanksgiving to his relatives' house and tons of people – I mean 30, 40, 50, 60 people.
"We would just enjoy being around family. Aunts, uncles, cousins, family, friends. Tons of food. As a kid, I never remember running out of anything."
Roughly during the same years Reed was growing up in Northern California, and in the immediate aftermath of the 1968 assassination of Martin Luther King, Jr., a school teacher some 350 miles to the south had started corresponding with the creator of the Peanuts cartoon, Charles Schulz
"A white school teacher wrote a letter to Charles Schulz and said, 'I think you need to have African American representation in your comic strip,'" Reed explained during an MSNBC interview in 2021. "Charles Schulz wrote her back and said, 'I would love to do that, but I want to make sure that the Black community does not think that I'm condescending to them.'
"He [Schulz] was very aware of the potential impact."
More letters back and forth followed.
The school teacher, Harriet Glickman, recruited some of her Black peers to help illustrate to Schulz how a Black character could be included in Peanuts without being stereotypical or condescending. Schulz was convinced.
"Shortly thereafter, Franklin was in the comic strip," Reed said.
Franklin Armstrong, the first Black character in Peanuts, and one of the first Black characters to appear in a popular, syndicated comic strip, debuted in 1969.
Four years later, it was Reed's voice that would bring Franklin to life in an animated holiday special, making both of them a part of a Thanksgiving tradition for millions of American families of every generation from his to now.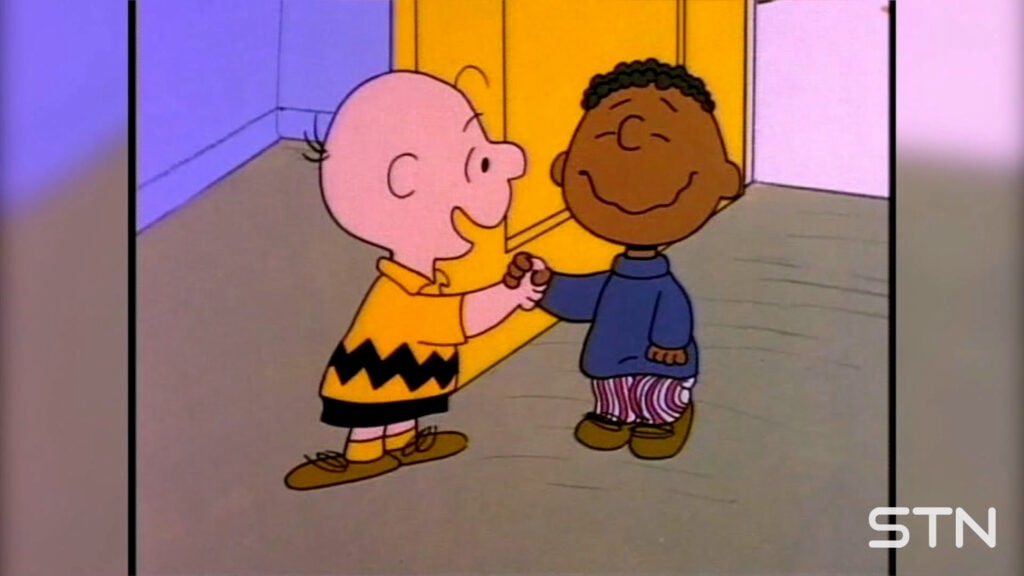 ———
These days, Reed is a little coy about his age. Unless he is pushed on it. He admits to being "probably 11 or 12" when his agent landed him a gig to voice Franklin for the televised special A Charlie Brown Thanksgiving.
"I had a phenomenal agent, Anne Brener." Reed said. "This is the early seventies. How do you not applaud someone who knows the importance of casting a Black actor even though it's just a voice? That was a really powerful thing, especially for that time."
The show first debuted on CBS in November of 1973 but Reed doesn't remember how much time passed between his days in the studio reading the lines and when the special premiered. Regardless of how large the gap was between when Reed recorded his lines for the special, "that time" for race relations in the United States came with pain, and progress with conditions.
MLK, Jr. was assassinated in early April of 1968. The Civil Rights movement had hit a crescendo. The Equal Voting Rights Act had been signed into law. The United States was slowly moving forward. Still, according to Reed, Schulz was forced to play hardball with publishers and executives when it came to Franklin even existing.
"They didn't want him in the comics, they certainly didn't want him on television," Reed said. "And Charles Schulz said, 'That's fine, I'll just pull my comic out of your market.'"
Well, he made too much money for them, so they couldn't do that."
By the time 1973 rolled around, and A Charlie Brown Thanksgiving premiered on CBS to a national audience, Schulz had already written nine animated specials for primetime television. The Thanksgiving special would be the first one to include Franklin.
"I think we have to remember, we're looking at something that happened in 1973 but we're looking at it through a 2021 lens," Reed said during the MSNBC interview last year. "So yes, it's so very easy to get offended or upset about something, but we have to remember that at that time, that actually represented progress. He [Schulz] was a very strong advocate for equality. He worked very hard to create images he felt represented the entire community."
The show won an Emmy in 1974 for Outstanding Individual Achievement in Children's Programming.
———
Tens of millions of people have watched A Charlie Brown Thanksgiving. Most of them at least twice. Some more than a hundred times.
It starts, as a lot of Peanuts stories do, with Charlie Brown's sister Lucy holding a football for him to kick, only to pull it away at the last second. Charlie misses the ball, spins in the air and crashes down to the ground.
But, it is another iconic scene in the special that sparked controversy the moment it aired and has been the subject of dozens of discussions in the years since.
"I know it often gets isolated to the scene around the table as do most depictions of Thanksgiving," Reed said. "Almost every depiction of Thanksgiving is about people sharing food. Because that's what the story of Thanksgiving is all about. "
The scene is set around a Thanksgiving feast. Hosting their own "kids" dinner, most of the Peanuts gang, including Snoopy, is gathered on one side of the table. Linus is at one end and Lucy is at the other. Franklin, the only minority character, is all alone on his side of the table, sitting on a beach chair.
"My ongoing joke is that I was in a beach chair and the dog got a real chair," Reed said. He may joke about it now, nearly five decades later, but when the special aired, that scene didn't sit right with everyone.
It triggered backlash and criticism that have lasted as long as the popularity of the special. Early on there were even accusations that Schulz was racist and created the scene to make sure Franklin was singled out.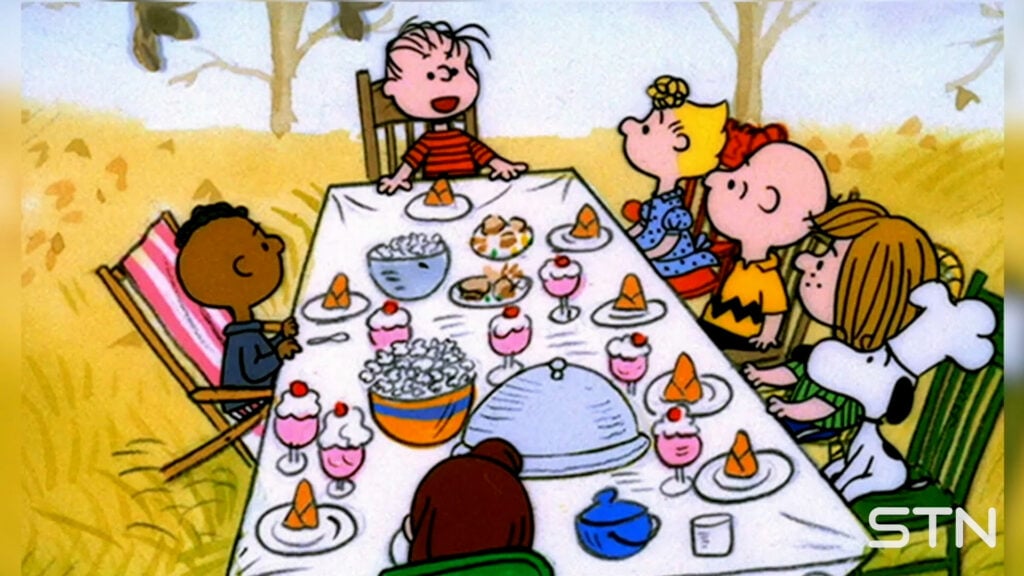 That doesn't fit with the way Reed sees it.
"That's what equity and inclusion look like, especially through the innocent eyes of kids," Reed said. "You invite the person because they're your friend. You don't worry about social or political pressure. You don't worry about differing points of view. You invite them because they're your friend."
Schulz's message with the scene landed with Reed then and lasts for him now.
"It really validated in a lot of ways the way I was being raised. I'm thankful for what that experience created for me."
———
Forty-nine years after A Charlie Brown Thanksgiving first appeared on television, Reed spends a good portion of his very busy professional time as the CEO of the Black Chamber of Arizona. He is also an executive producer and co-host at STN. His mission in both capacities is to foster diversity, equity and inclusion. It doesn't differ much from what he saw Schulz trying to do with Franklin and a turkey dinner all those years ago.
"If we did that with everything, how exciting could the world be?" Reed asked. "If we just connected with people for how they actually relate to us personally and not whether we're trying to fit into some particular mold."
As the years have gone by, Schulz's popular Thanksgiving tradition has gone from annual appearances on television and eventually to VHS tapes and DVDs. It now exists almost entirely in a streaming world with Apple+ having purchased the rights to it in 2020.
Over that time, Reed says watching the special became a tradition he shared with his children as they grew up, and he looks back on the entire experience and all the conversations that have come from it, with a smile.
"It has been a wonderful part of my life," he said.
And, as much as he fondly remembers playing the role of Franklin and the role the special has played in his life, he doubts the show, and its famous scene could be made again today.
"I think today we're a little bit hit you over the head with a sledgehammer messaging," he said. "We got to be so crystal clear on the message we're trying to send that I think it would take away the innocence of childhood friendships, which is what that was about. It wasn't really a bunch of kids trying to be adults, although they were cooking meals and setting tables and all that. That wasn't the message.
"The message was childhood friends enjoying friendship. I think today we would be unfortunately far too explicit in trying to segment and prove that we had included every community that we wouldn't leave any room for nuance or interpretation or perspective."
Regardless of whether the special would be made in the same way today or not, the impact of Schulz's insistence on including Franklin in the comic strip and at the dinner in the animated special isn't far from Reed's mind every year around Thanksgiving.
"To be part of something that is iconic and lasting, that was started because someone said, We need more equality," Reed said. "I think that's a great thing to be connected to and I'm very proud of it."
STN is creating a better local media experience
Check out the full episodes, action panels, blogs and more from our brand new show, It Happens at STN.
Get our latest stories right in your inbox.