The STN team dives into the value of prevention and diversion in addressing systemic homelessness, music's impact on mental health, a better way of looking at disabilities and the future of farming driven by artificial intelligence.
7:58 – HSC Profile: Project Connect
10:41 – UMOM Action Panel
23:55 – All in Education: Adelante
33:35 – Project Greenprint
37:15 – Leader Profile: Hillary Bryant
42:14 – Community Collaborative
47:01 – Leader Profile: Jason Paprocki
Second episode brings familiar faces back to the STN studio for solutions-based discussions
PHOENIX, Ariz. (STN) – It Happens at STN returned this week for the second episode of their debut season.
Much like September's premiere episode, the second installment featured panel discussions, feature storytelling and continued collaboration among STN's community partners.
Once again, STN Founder and host Eric Sperling helped guide the live audience on a journey through some of the systemic issues facing the greater Phoenix area while showing off some applicable, actionable approaches to addressing them.
Here's a quick look at just some of the very important discussions to explore and learn from in episode 2 of It Happens at STN:
3:32 – 7:57
Sperling got episode two got underway by welcoming Human Services Campus Executive Director Amy Schwabenlender and Jackson Fonder, the CEO of UMOM to the stage for an introductory discussion about the direct needs when it comes to addressing homelessness and houselessness in the Valley, focusing on how to inform important decisions and best distribute available resources.
7:58 – 10:40
The first video presentation of episode 2 takes viewers behind the Project Connect effort to get out into the streets and meet the people who need assistance where they are. Project Connect is one of the Human Services Campus's primary ways of providing services to the hundreds of people who may be unable to access assistance otherwise.
10:41 – 20:35
Schwabenlender and Fonder remained on stage for the first action panel of the evening and were joined by Human Services Program Director Richard Crews. The discussion focused on diversion and prevention as ways to help reduce the strain of housing challenges on both those who need assistance and the systems in place to help them.
21:50 – 23:54
Opening up with the somber news of recent, deadly violence at schools, In the Room hosts Lloyd Hopkins and Stephanie Parra discussed how understanding and improving the mental health and well-being of a community is critical to addressing issues like violence in schools.
23:55 – 25:30
The second video feature of episode 2 told the story of AJ Manual and how the Adelante Fellows effort is changing the lives of minority students in Maricopa County. Manual talked about the successes of the program and how evolving and improving it could help empower more students to reach their full potential.
25:31 – 32:27
For the second action panel, Rosie's House CEO Becky Bell Ballard, Daniela Vizcarra from Gila River Resorts & Casinos and Ivan Martinez Morales from Rosie's House joined Hopkins and Parra on stage. The group discussed the role the arts, specifically music, play in children's mental health and development and why it is so important in helping to create and achieve goals.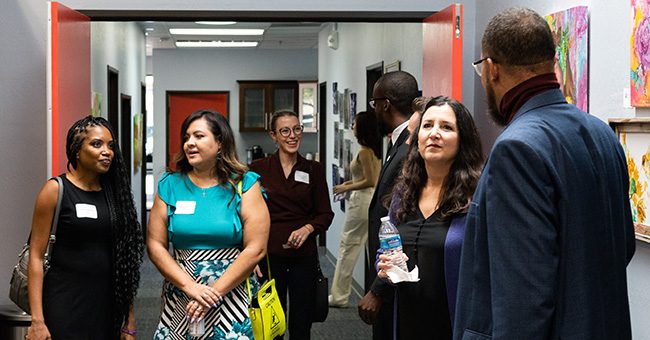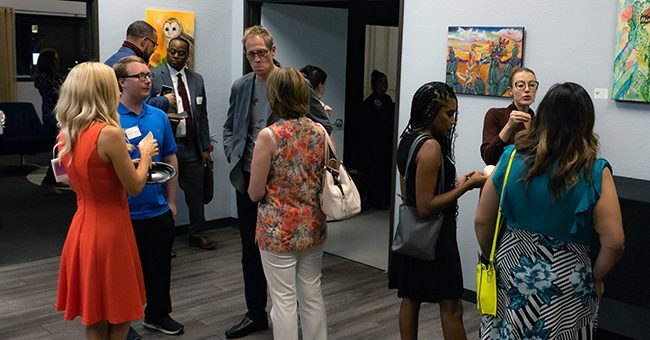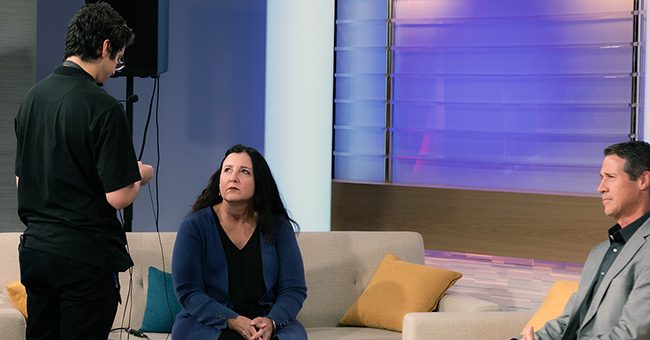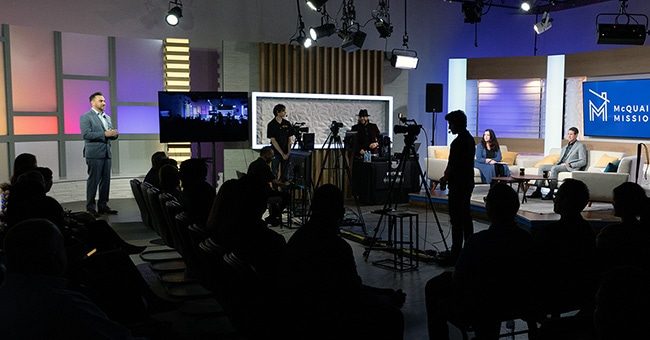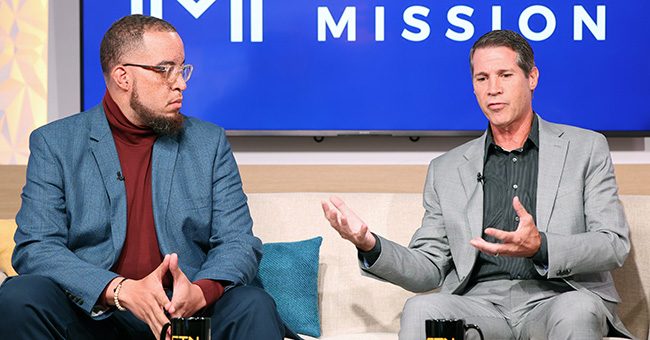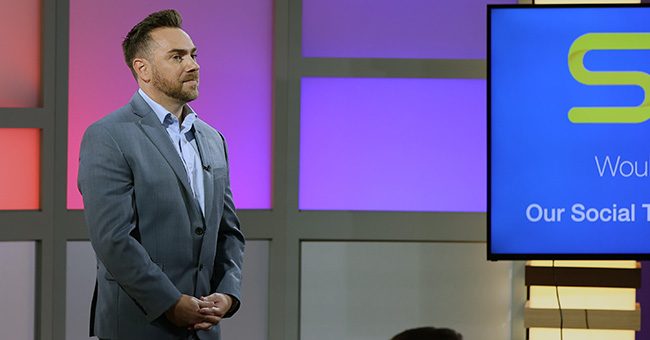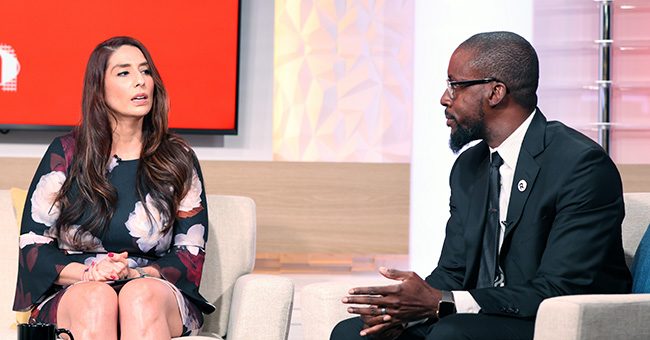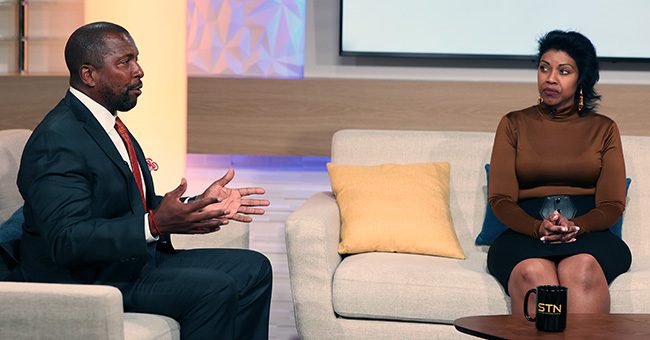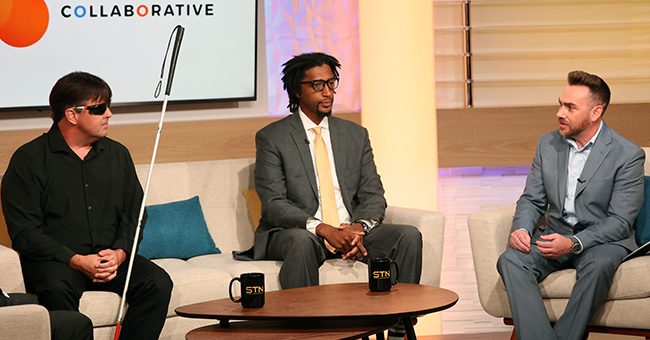 33:35 – 37:14
This season's second installment of Project Greenprint highlighted a company called OnePointOne and its mission to "unleash the power of plants on human health." The video feature took the audience inside the future of high-efficiency agriculture and vertical farming and explained how artificial intelligence can help build a much more sustainable, greener future of food.
37:15 – 40:29
In the first of a pair of Leadership Profiles in episode 2, the audience was introduced, again, to Waste Not's Executive Director Hillary Bryant. After appearing as part of an Action Panel in episode 1, Bryant talked about how her upbringing in Arizona, her love for spending time outdoors and connecting with nature drove her to be a staunch advocate for the environment.
42:14 – 47:00
In a follow-up to a conversation during the first episode of It Happens at STN about the benefits of funding employee resource groups, the CEO of the Arizona Black Chamber, Robin Reed, and Kaaren Lyn-Graves from NABEDC discussed how to best measure the impact and success of them.
47:02 – 50:10
The second Leadership Profile of the evening also brought the return of a familiar face in the STN family. Jason Paprocki, the Executive Vice President and Chief Strategy Officer from Arizona Financial Credit Union, explained how two tenets, curiosity and kindness, drive his desire to help others in the community.
50:11 – 1:02:26
In observance of National Disability Employment Awareness Month, Lyn-Graves and Reed were joined on stage by Mike Hess from the Blind Institute of Technology and Kenneth Mims from the Neurodiversity Education & Research Center. The final action panel of the second episode featured a discussion about how disabled and differently-abled people must be represented in applicant pools and leadership positions.
Episode 3 of It Happens at STN will be shot in front of a live studio audience in early November and be available here on STNTV.com shortly afterward.
Get our latest stories right in your inbox.