Phoenix, Ariz. (STN) – After a decade of working to create a better local media experience, STN is about to launch its newest product on its streaming network. . This September, the network will launch a first of its kind local news hour, , It Happens at STN.
"The focus will shift heavily into solving direct needs and systemic issues that we can change," said STN Founder and Managing Director Eric Sperling. "The shows previously were more about the awareness of what people are doing in the community. This season, with the amount of momentum we have and the leaders we have at the table, now it's 'this is a crisis and here's how to solve it.'"
With the first taping of the show slated for September 1, It Happens at STN will continue the company's mission of driving conversation around major issues facing the greater Phoenix area as they align with their four pillars: Diversity, Equity, & Inclusion, Mentoring and Mental Health, Affordable Housing and Homelessness and Sustainability.
"It Happens at STN is the evolution of our community action shows," said Kathy Clark, Executive Producer. "We began to see that these four pillars we were producing independently consistently intersected with each other. The leaders we are working with are all connected. So, why not take that synergy and have these conversations together in one powerful hour?"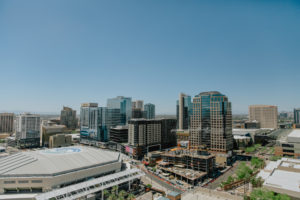 Among the important conversations being featured in the debut episode, Black Chamber Arizona CEO Robin Reed and Monica Villalobos, CEO of the Hispanic Chamber of Arizona, return to STN to discuss the progress being made in addressing systemic issues facing the valley and where local businesses and organizations are getting it right. 
Plus, Dave Richins, United Food Bank President & CEO and Waste Not Executive Director Hillary Bryant take a look at why Arizona is the largest food-waste producer in the country and what can be done to fix it.
The goal in assembling contributors and partners that will appear during this season of It Happens at STN, is to gather a growing network of community partners at the table, where they can push in the same direction to not only address community issues, but to work toward tangible solutions.
"This [new show] gives our audience access to all things going on in that hour versus having to seek them out separately," said STN Operations Director Rachel Andrews. "With the new format, we come together in the same space for all of these different topics and hopefully, greater collaboration will come from that."
New episodes of It Happens at STN will be released monthly and debut exclusively on STNTV.com. The website, which is being revamped to coincide with the launch of the new show, will feature full-length episodes, exclusive behind-the-scenes content, comprehensive blogs and detailed information about how anyone can join in the STN mission to address and solve the issues that impact all of us.