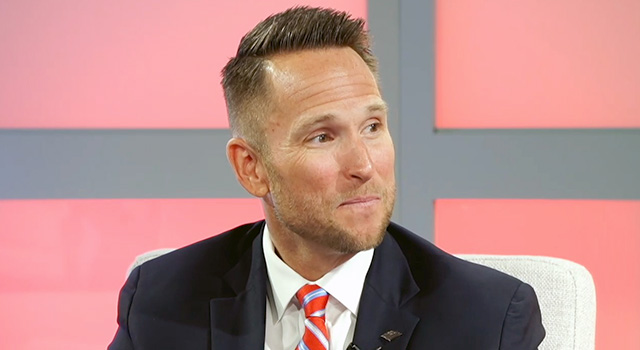 Scott Vanderpool, the President of Bank of America in Phoenix, is a third-generation banker. Growing up, dinner conversations in his house revolved around mortgages and interest rates, but he also learned why a thriving local bank is crucial to building a vibrant community.
Today, Vanderpool spearheads an ongoing Community Needs Assessment (CNA) with a diverse group of leaders within Bank of America to ensure the bank actively addresses the critical issues affecting Phoenix.
Vanderpool embraces a holistic approach to leadership, understanding that employees' lives don't halt at the office door. He strives to foster a supportive work environment where individuals can bring their whole selves to work.
Growing up in diverse Hispanic and Latino neighborhoods of Southern California and adopting a Latina daughter from Gilbert, Arizona, has deepened his passion for empowering and enriching the lives of Phoenicians.
As the bank continues to navigate Phoenix's flourishing economy, Vanderpool's focus on genuine community connection and work-life balance stands as a beacon for his success as well as Bank of America's success in Phoenix.
"It's important to create an environment where employees can bring their whole selves to work and find their own balance. Supporting personal growth and fostering inclusivity contributes to a positive and understanding workplace."
– Scott Vanderpool, President, Bank of America Phoenix
Scott Vanderpool, the new President of Bank of America in Phoenix, shares his vision for leading the bank's 9,000 employees in the state.
This article has been edited from the original interview for content, length and clarity.
STN:
How do you connect motivation to purpose, and why this idea drives a lot of the work you do at Bank of America?
Scott Vanderpool:
When I think about leadership, whether it's direct or indirect, one of the key drivers is motivation. What inspires people to come to work every day, show up to events, or support the Diamondbacks? There must be a core motivation. Whether it's at the bank or in my personal life, I focus on understanding what drives people to do what they do. Engaging in conversations and grasping their motivations helps us find common ground and take action.
STN:
There are 9,000 Bank of America Employees in Arizona. How do you pull leadership out of others and carve a path toward leadership roles?
SV:
It would be very arrogant and certainly ignorant of me to believe that I could effectively lead 9,000 people without empowering them to lead on their own. 
Our work across the valley involves both direct client interactions and indirect support services. I may not always have a complete understanding of everything happening at every campus site. It wouldn't make sense for me to dictate five specific tasks to an employee for success at any one of our campus sites. 
Instead, what I find truly impactful is when someone seeks my advice, whether it's about their career or anything else. I always start by asking, 'What are your goals? What is your end game?' I often use the example of asking them if they want to be the President of Bank of America. If they say yes, then we work our way back to find out what the very next step for this employee would be moving forward.
When it comes to leadership and inspiring others to lead, I believe in sharing my vision as the president, as it aligns with the bank's goals. However, it's equally important to understand how each person's daily, weekly, monthly, and quarterly tasks contribute to the larger objective. When you grasp the motivation and reasoning behind my direction, it becomes easier to see how what you are asked to do on a day-to-day basis fits into the bigger picture for the bank. 
If you are able to stay aligned with your employees it makes it easier for the leadership to shine through because everyone can always go back to the bank's core tenant and say, 'This is what I/we are trying to accomplish.'
STN:
Have you come across anyone that has set their sights on your position?
SV:
Almost every day.
I tell them, 'You can have it.' That's ultimately the goal I aim for. I want everyone in the bank to believe that the path to becoming president is within their reach, whether it's one step away or fifteen steps away. As President of the bank, I have to create an environment where people feel that opportunities to advance within the company are feasible and accessible. If I am not creating these types of opportunities, then I am not doing my job appropriately.
STN:
When people look at the things that make banks successful why is one of those factors a strong connection to their community?
SV:
I'm a third-generation banker, and so my conversations around the dinner table were about mortgages and overdrafts and things that were going on in financial centers. I understand banking from 300 years ago. 
I usually break down and answer that question in a number of different ways, but there are some core basics to take a look at. If you took a very pessimistic view of banking, the reason why it's important to stay connected to the community is because the regulators tell us to, that is the biases of the Community Reinvestment Act. The other approach is a realistic view which is more of a conscious capitalism approach, where the focus of the bank is on the stakeholder as opposed to the shareholder. If you start thinking about issues beyond just the bottom line and instead become more aware of the world around you, long-term success becomes more attainable. 
You can also look at it from the perspective of banks don't really do anything; a banker may find themselves sitting at their desk with nothing to do until someone asks for their help. Whether it's someone wanting to buy a house, secure a mortgage, set up a 529 plan for their child, or plan for retirement, bankers spring into action when people seek their expertise. This perspective leads us to realize that bankers are essentially in the business of fulfilling dreams, and it would be narrow-minded to think their impact is limited to the four walls of their institution.
Understanding what drives the workings of a bank shows its prosperity is intertwined with the well-being of the community it serves. A thriving community contributes to a stronger economy, whether at the local or national level, which, in turn, provides the bank with more opportunities to help people achieve their goals. Instead of viewing community connection as an obligation, it is more apt to take a broader view, recognizing that the bank's existence is contingent upon the vibrancy of the community it serves. The more dynamic the community, the more opportunities arise for individuals to seek assistance and guidance from the bank in fulfilling their aspirations.
Ultimately, embracing a larger perspective allows a bank to not only meet regulatory requirements but also become an integral part of the community's growth and development. By investing in the community and creating more opportunities, the bank plays a crucial role in empowering individuals to confidently pursue their dreams. Taking a proactive approach to contributing to the community's success becomes a natural part of the bank's mission, resulting in a mutually beneficial relationship where both the bank and its customers thrive together.
STN:
As part of your community needs assessment, you've brought together an incredibly diverse group of community leaders, and not the traditional diverse race, or gender. The group you have brought in has diverse experiences, outlooks, opinions, and backgrounds to address some of the major issues that are happening in this market. Talk about what went into all of those decisions.
SV:
One essential requirement for a bank is conducting a yearly community needs assessment (CNA) to truly understand the dynamics within the community it serves. Traditionally, this assessment involves gathering feedback once a year, compiling a report, and submitting it. However, my perspective on the CNA has evolved, and I think understanding the community's needs should be an ongoing, year-round endeavor.
Rather than limiting ourselves to a single annual gathering, we have embraced a more proactive approach. We now meet with diverse groups of stakeholders regularly, rallying around four primary focus areas in community development: affordable housing, workforce development, small businesses, and health. By collaborating with community members and partners, we hope to address the most critical issues.
During the CNA sessions, we identify the core issues and work towards actionable solutions. By combining programs, pooling resources, and facilitating access to information, we aim to make a tangible difference in the community.
In these gatherings, we invite people with different perspectives to participate. Their diverse viewpoints enable us to narrow down and prioritize the key initiatives. By focusing on one, two, or three critical items, we can channel our efforts and resources more effectively.
As a funder and collaborator with other funders, we use the insights from the ongoing CNA conversations to make informed investment decisions. We look for opportunities to incubate ideas that can grow and scale, or to support community-wide initiatives.
Ultimately, the CNA has evolved into a dynamic and continuous dialogue. Our role is to facilitate these conversations, allowing community members to take the lead in shaping solutions. The goal is to become smarter with our investments of time, energy, and resources, to foster positive and lasting change within the community we serve.
STN:
You are not in the business of writing checks in exchange for logo placement you are actually working to create change.
SV:
Yes. The bank has been around in some way, shape, or form since the United States has been a country. As we expand into new territories, like Boise, Denver, Minneapolis, and Salt Lake City, there might be communities unfamiliar with our core identity. For them, the Bank of America brand is not just about a logo; it's about the essence of who we are and what we stand for.
When people think of the Bank of America brand, I want them to envision a partner they can trust, someone who truly understands their needs. For me, the most valuable feedback is when people say, "You guys get it." It means we are connecting with the community and meeting their expectations effectively.
On the other hand, if someone expresses that they feel we don't fully understand their needs, I see it as an opportunity to improve. Understanding the concerns and expectations of different communities is vital to our success. The Bank of America brand is not merely a symbol; it's the action we take to address the unique needs of each community we serve.
As we continue to expand and grow, our brand will always be synonymous with genuine engagement, meaningful action, and a commitment to meeting the diverse needs of the communities we operate in. The logo is just one part of it; the true essence of the Bank of America brand lies in our dedication to making a positive impact in the lives of the people and communities we serve.
STN:
You meet a lot of different community leaders when you go out into the community whether it is at a golf event or a charity event so how do you go from those brief interactions to forming relationships and working with other leaders to solve community problems?
SV:
It all comes back to understanding the "why" behind the requests we receive. When someone approaches me seeking financial support without explaining the underlying issue or the purpose behind their request, it can feel transactional – like I'm just a means to an end. 
However, when they come in with curiosity and a desire to understand what Bank of America is doing or why I am personally engaged with a nonprofit, it opens up a dialogue. We can explore common ground and identify opportunities to work together towards a shared goal.
Having a positive personal connection and mutual respect is certainly beneficial, but the real essence lies in understanding the motivations behind each other's actions. Connecting the dots between our respective goals and finding common ground is key to successful collaborations. 
I've noticed that engaging in enriching conversations, even when I have to decline a funding request, yields better results. By providing thoughtful recommendations that align better with the requester's objectives, we can make a more significant impact together than simply writing a check and walking away.
Building relationships takes time, but it's not just about idle conversations. It's about taking meaningful action when opportunities arise and when we proactively explore how we can work together and move forward to create actionable change in our community.
STN:
You're very connected to your marriage, to parenting, to your hobbies as well as banking. Why is that important for you personally and why is it important for you to model that for your team at Bank of America?
SV:
Thank you for the feedback, my family is of utmost importance to me and the life we build together holds immense value. I firmly believe that people shouldn't live to work; instead, I think people should work to live the life they want to lead. The pandemic and the challenges we faced returning to the office have highlighted the significance of integrating our personal and professional lives successfully. It is not that people don't want to be in the office with the people they work with, the reality is people want to be able to successfully weave their life into their work.
As a leader and a family person, I am constantly seeking ways to meet the demands of my busy schedule, which includes work commitments, interactions with the 9,000 people in the bank, and the responsibilities I have towards my daughter, London, my son, Bronx, and my wife, Christine. 
I learned a valuable lesson during my time in Colorado, I was under a lot of pressure establishing the bank's business banking team, and at one point during this time an HR partner pulled me aside and told me I needed to make time for myself because if I don't, no one else will.
After chatting with the HR partner I started a new philosophy; if my calendar allowed for me to take time away from the office then I am going to take the time and be out of the office. If my calendar allows for lunch with my wife, then that's where I'll be. I found this new approach to my work life balance reduces stress and empowers not only myself but those around me.
I share with my colleagues that I coach my son's little league team, not to brag about being the greatest coach, but to demonstrate my commitment to being involved in my son's life. I also make my daughter's competitive cheer events a priority as well because she needs to know am just as interested in what she is doing. Just because I have to leave for the office doesn't mean my personal life stops and waits for me to return home.
As a leader of 9,000 people at the bank, I understand their lives don't stop at 8:00 AM. It is important to me that I show them as leader of the bank the demands on my time are numerous, and I have to prioritize and make time for every aspect of my life. It's important to create an environment where employees can bring their whole selves to work and find their own balance. Supporting personal growth and fostering inclusivity contributes to a positive and understanding workplace.
STN:
At STN one of the things we talk about a lot is allyship; serving communities that you may not identify with but you find common ground on an issue and begin a partnership. 
You recently had an experience while working within the Hispanic/Latino community and one of their leaders called you out and said, 'Hey, who is this white guy trying to lead like this?' 
Do you mind sharing the story with us?
SV:
In my role at the bank, I have the privilege of working on initiatives focused on the Hispanic-Latino community, both locally and nationally. It's been an educational journey, as I've realized the influences and needs of different Hispanic communities vary greatly, the needs of the Hispanic-Latino community in Phoenix are different than those in South Florida. Early on in this work, I was having a conversation with a local Latino leader and when I finished explaining the things I had been working on he said, 'Well, why do they need a white guy doing this kind of work?'
I was fumbling over my answer when he said to me, 'I am not trying to give you a hard time, but when people see you they don't need to look at you and dismiss the work you are doing. Do they know about your background? Do they know where you grew up? They don't know any of that, they see you and all they see is one thing. You need to project the confidence that shows you know their community.' 
What he said really got me thinking, I may not share the same background on the surface, but I was born in Whittier, California and I lived all over South LA County and North Orange County in predominantly Hispanic Latino neighborhoods, so my upbringing created a deep affinity for the culture. My personal connection, along with the business case for engaging with the Hispanic Latino community as a major driver of economic growth in Arizona, has motivated me to invest in these initiatives.
Fast forward to the life I am living with my family, my wife and I were fortunate enough to be able to adopt our daughter here locally who happens to be Latina. Having my daughter and son has strengthened my commitment to ensuring that others, can experience the rich culture and influence the Hispanic-Latino community offers. My background and experiences have given me a unique perspective to contribute meaningfully to this work, and I am dedicated to making a positive impact in their community and our greater community in Arizona.
STN is creating a better local media experience
Check out the full episodes, action panels, blogs and more from our brand new show, It Happens at STN.
Get our latest stories right in your inbox.