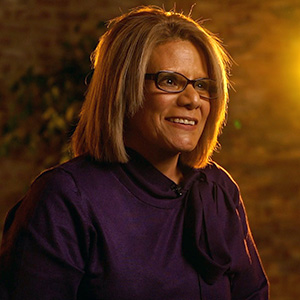 While studying for her master's degree in Peru, Mila Valle found her passion for helping people in need. During that time she realized her career path was going to be caring for the unsheltered population.
Today, Valle is the Director of Emergency Shelters at UMOM. Her goal every day is to shrink the number of families on their unsheltered waiting list. Right now there are more than 100 families on the list. Valle shares why collaboration is the key to ending homelessness in our country.
"We are here to solve the problem of homelessness and make sure that it is rare, brief, and non-recurring."
– Mila Valle, Director of Emergency Shelters, UMOM
Mila Valle discusses the importance of using community partnerships to help end homelessness
This article has been edited from the original interview for content, length and clarity.
STN:
Tell us where you are from and what your childhood was like.
Mila Valle:
I was born in Jersey and at the age of eight months, my mom sent me to Peru to live with my family. I was there until I was five, then I returned to the United States and grew up in Idaho. Later, I went back to Peru to get my master's degree; that is where my passion for ending homelessness began.
STN:
What was it like going from Peru back to America and then back to Peru again for your master's degree?
MV:
I came back to the US when I was five. I knew Spanish and Portuguese, so coming back to the states and not being able to speak English was hard. Many people made fun of my family and me for not being able to speak the language and because the color of our skin was different than everyone else. It was  shocking for me, I wanted to go back to Peru because Peru was different. Everyone was treated the same, you were not treated differently because of the color of your skin or the language you spoke. I realized at that point that I wanted to make a difference. I wanted to do something that would help people no matter their skin color or the language they spoke.
STN:
Where did you start working with the unsheltered population, and how did you get connected with UMOM?
MV:
I originally started working at Salvation Army in their homeless shelter. After I worked for The Salvation Army, I worked with St. Vincent De Paul in the Ozanam Manor, working with seniors, which was great. I had always known about UMOM and the innovative tools they use to help families and women get out of homelessness. When I got the opportunity to be a part of their team, I jumped at the opportunity to join the organization. I have been at UMOM for 10 years now.
STN:
What is the day-to-day look like for you when you come through the door at UMOM?
MV:
As a director of emergency shelters, I oversee the family shelter and the single women's shelter. A big part of my job is making sure that all our beds are filled, as well as making sure that we are connecting with the community to let them know that we have beds available. On the family side of the shelter, I am constantly working on our service priority list to ensure that we are getting families into UMOM. 
I like to walk through the campus to make sure it looks and feels like a place of comfort and support. I also check on our staff and make sure that they are doing okay. Another part of my role as director of emergency shelters that is extremely crucial is connecting with our clients. I think it is important for me to get to know the people that are in our shelter; making that connection with them is a critical part of helping them out of homelessness and into housing. 
STN:
Where does the passion to do the work that you are doing in the fight against homelessness come from?
MV:
In my opinion, everyone has the right to access whatever type of social services they may need throughout their lifetime. As a child living in Peru, I saw the entire community work together to help those in need. When I came back as an adult to get my master's degree I was able to be one of the ones helping people in need.  During the time that I was back in Peru working on my master's degree, I realized I wanted to come back to the states and do the same type of work.
There should not be 140 families on the street waiting for shelter. We should not have this problem in America. It is something I am very passionate about, I want to be part of the solution that ends homelessness.
STN:
At STN we like to say, "it takes more than one organization, group, or business to create change." With that in mind, when it comes to collaboration, what do you look for when it comes to finding partner organizations?
MV:
Collaboration is big. Everyone brings something to the table. We look at what can your organization or business bring to the table. What passion do you have within the area of homelessness? What can you do to help us get to the next level? That part is crucial to me. We are not here to have one conversation, we are here to solve the problem of homelessness and make sure that it is rare, brief, and non-recurring.
STN:
How should someone approach you if they are interested in collaborating with UMOM?
MV:
Pick up the phone. I love collaborating with other organizations. I am always available. I will give my phone number out to anyone. When other organizations have a single woman that requires shelter, they call me and I get them in right away. Collaboration is big for me because it is how we end homelessness.
For more information on how you can help UMOM New Day Centers visit their website umom.org
STN is creating a better local media experience
Check out the full episodes, action panels, blogs and more from our brand new show, It Happens at STN.
Get our latest stories right in your inbox.