Growing up in the small farming town of Coolidge, Arizona, Mary Mitchell learned what caring for your neighbor meant at an early age. She watched her family members lend a helping hand and drive change in their small town, and as a result, community involvement became a part of her fiber and led her to a career in community action.
In high school, Mitchell's mother told her about a vibrant Black student union that was established when she went to Coolidge High. However, the group no longer existed. Mitchell became determined to know why it was gone and how she could bring it back. 
That day, she made a deal with the school's principal. If there was still money available for the club, she could take it over. Mitchell ran the Black Student Union at Coolidge High School for two years after that. 
Today, Mary Mitchell is the Co-CEO of Arizona Cactus-Pine Girl Scouts, where she works to help build courage, confidence and character for girls in Arizona. Mitchell is driven to help young women in Arizona realize their dreams and is committed to helping them create a path to get there.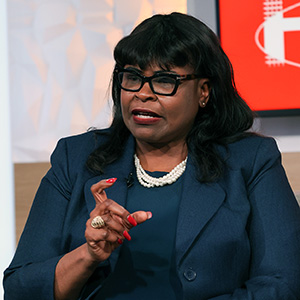 "I don't know any other way to live in this world without creating a sense of connection."
– Mary Mitchell, Co-CEO, Arizona Cactus-Pine Girl Scouts
Mary Mitchell talks about how growing up in a small farming community gave her a sense of compassion and care that she has carried throughout her career in community leadership.
This article has been edited from the original interview for content, length and clarity.
STN:
Let's talk about growing up. Where did you grow up? What was childhood like?
Mary Mitchell:
I grew up in Coolidge, Arizona. It is a small farming community, with great neighbors and people that took care of each other. It is where I learned to serve my community.
STN:
Where did your passion for community and driving social change come from? How did it develop through your childhood?
MM:
My drive for community activism came from my grandparents. They were always connected to what was going on in our little farming town and interested in how they could help people and make it a better place for everyone.
I witnessed their involvement in our community firsthand. It felt good to see my grandparents in that space, and I picked it up with them. It felt like a natural thing to do. I didn't know any other way of being.
As I got older and into my teens, I started to become interested in how things can be changed so that there is equity and justice for all people, regardless of where they came from or what they look like. The first instance that community activism took hold of me was when I was in high school at Coolidge High.
My mom told me stories about how when she was in high school there was a Black student union. She said it was a vibrant student-run organization and they did all kinds of things to take care of each other.
One morning I walked into the principal's office, and I asked him, 'I would really like to know what happened to the Black student union?' 
My principal said, 'Why do you ask Mary?'
I told him, "Because there is nothing here for people like me, I would like to start it up again if I can." So, he told me to go over to the bookstore, and if there is any money left over on the books it is yours to use for the club, and for two years I led the Black Student Union at Coolidge High School. It was fantastic.
Black students came out of the woodwork to find a place that was their own, and we did incredible things for our Black students. It fed me in a way that I had not thought it would. I was looking for a place to belong, and it became so much more than that for me. They continued the Black Student Union after I graduated and that made me feel really good. I don't think a day went by where I didn't feel like I could create change, as long as I leaned into figuring out how to do it. 
STN:
When you restarted the Black Student Union group at your high school how were you able to show your peers that this was something worth joining?
MM:
That part is all about creating a voice. 
How does one use their agency or group to create a voice, not just for yourself, but for others as well? In my case, it happened to be for African American students in high school.
As my life has shifted and changed the same kind of mentality followed me to my work. So, when I worked in the state government, or for other nonprofits, and now the work I do for Girl Scouts, I am always looking for ways to create unity and a sense of belonging for all the people I am working with and for. I don't know any other way to live in this world without creating a sense of connection.  
STN:
When it comes to creating connections and working with other organizations what are the things you look for when you are on a mission to collaborate?
MM:
First of all, I am looking for partners who understand what girls need. I am also looking for collaborators that align with our mission of serving girls and creating courage, confidence and character. 
I like when there is a sense of reciprocity to the partnership or partnerships so that there is a real sense that everyone is gaining something positive from the collaboration.
STN:
You are in your second year as Co-CEO; what has been some of the feedback you have received from parents during your time leading girls scouts in Arizona?
MM:
We think of Girl Scouts as a place where girls learn how to lead. So, when I talk to parents I hear stories like, 'my daughter was shy and quiet and now she is sitting up straight, she is more confident, she is trying new things and troop meetings have become the highlight of her week. Most importantly, our daughter has been able to have new experiences that she would not have had if it were not for girl scouting.'
Anytime I hear parents talk about the positive impact girl scouting has had on their daughters' lives it makes me feel good. Our scouting parents are often the source of new ideas and programs that we may try to implement. They are as much of an agent of change as we are in their daughter's experience, and as an organization, we are there to enhance what is already inside of our girl scouts.
STN:
With everything that our youth deal with today, school violence, social media, cyberbullying, and keeping up their grades, do you feel that your work is more important than it ever has been?
MM:
I do. I think some girls have a hard time figuring out who they are and navigating the world we live in today because they spend too much time on some type of device. Technology is great, but sometimes it creates a sense of disconnection and it diminishes mental well-being because you don't have a real sense of connection to the outside world.
What I want most for any girl is to be able to feel connected to who she is and be proud of whatever passion she finds in life. I do not want to create an environment where something can interfere with that self-learning process. 
I think sometimes technology can distract from that evolution. It is a great tool, but if girls spend too much time with technology it diminishes their ability to see everything in front of them once they are away from their devices.
The world has changed so much over the last few years because of the pandemic. We used technology as our means of connection when there was no other way to connect with the outside world. It became such a big part of everyday life for a long period of time.
My hope is that girls use technology, but I also hope that they take time to get away from it and go back to the spaces they knew before the world changed so much. I hope their lives are much more vibrant because they put their phones away for a few hours.
STN:
When it comes to collaboration with other leaders or businesses how do you like to be approached? Are you an email, phone call, or text type of person, or do you like to sit down and have a conversation to get the ball rolling?
MM:
I am very open when it comes to introductions and starting collaboration conversations. You can call me, email me, walk into our offices, and ask to see me if I am there and I am always up for a good cup of coffee, especially in the afternoon. I will also add that I am a foodie, so if you want to go out to eat that is okay with me as well.
The biggest thing I look for when I start talking about collaboration with folks is a sense of connection. How can we help each other and the people that we serve?
To get involved with the Arizona Cactus-Pine Girl Scouts visit their website https://www.girlscoutsaz.org/
STN is creating a better local media experience
Check out the full episodes, action panels, blogs and more from our brand new show, It Happens at STN.
Get our latest stories right in your inbox.