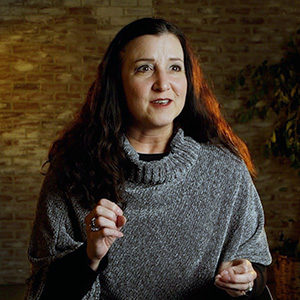 Amy Schwabenlender has spent over 20 years working in the nonprofit sector trying to find solutions to end homelessness in Arizona. From growing up as Girl Scout in Wisconsin to now, serving the community has always been a part of who she is as a person and a leader.
The course of her career changed when she had the opportunity to be a part of a 24-hour immersion experience at the Human Services Campus in the early 2000s. When she saw the faces of the men who were experiencing homelessness, she looked into their eyes, and it reminded her of her dad.
Her father was a functioning alcoholic, and although he never experienced homelessness, the immersion experience served as a reminder of how this can happen to anyone. Schwabenlender was forever changed.
Now, Schwabenlender leads the largest shelter in Arizona and has become a leader in the fight to end homelessness. She says she will forever be grateful for the immersion experience because it led her to where she is today.
"I believe to my core that it is unacceptable to have homelessness in our country we have the resources to end this problem."
– Amy Schwabenlender, Executive Director, Human Services Campus 
Amy Schwabenlender shares how a 24-hour voluntary houseless immersion program at the Human Services Campus sparked her passion for ending homelessness.
This article has been edited from the original interview for content, length and clarity.
STN:
Tell us where you were born and raised. What was growing up like for you where you lived?
Amy Schwabenlender:
I am originally from Muskego, Wisconsin, which is near Milwaukee. My childhood was spent in a small farm town. Now, it is so developed it is unrecognizable to me.
I have one brother, and we grew up on a property right next to where my grandparents lived. We could walk from our backyard to their house. Family was always a really important focus for us. 
My parents separated and got divorced when I was in the eighth grade. It changed our family unit. We became a family of three. It was my mom, my brother, and me. We got a lot closer with my grandparents after that as well, they stepped up and made sure that we had everything we needed.
When I was in high school I was constantly plotting my escape. I didn't know where I wanted to go, I just knew that I didn't want to be there anymore. I was very focused on school and going to college after high school.
My parents and grandparents were also very involved and supportive of my education. They did not go to college so it was something that they wanted me to do. 
I had a small group of friends, I tried playing sports but I'm really not athletic and certainly not quick enough for anything. I enjoyed playing sports, but I knew I was not going to be an athlete. I also played flute in the band until around junior high. 
Looking back, I wish I had been more present as a kid, instead of always trying to plan my escape after high school graduation.
I was also a Girl Scout growing up. A small group of us stayed together in scouts through high school. I think a lot of my abilities and leadership skills come from experiences I had as a Girl Scout. My mom was a co-leader of our troop with another mom so I always had a connection with a small group of people, and if you know me I am very introverted. 
Even though it may not seem like it right now because I am talking about myself to you, but I am. I like to do things with a small group of people or by myself. I have always been very independent in that way.
My mom became a single parent who hadn't worked full-time outside the house until the divorce so money was kind of tight at times. When she went back to work full-time I took up looking after my brother who is three years younger than me. 
I am not sure if I took on helping with my brother and all the other "around the house" things out of instinct or if I was something I was asked to do, but I remember thinking "why isn't mom doing this?" 
I have always been sarcastic so there were times that I told my mom, "Who is the mother in this relationship?" Since then I have apologized to her profusely for my snottiness as a child. I think in some ways she understands.
We all did the best we could to still be a family and get through, it is not like it was an awful time but it certainly is not what anyone would have expected in their family. I was the first of any of my friends whose parents got divorced, so I always felt awkward talking about it at school. I felt a little guilty having to explain why my dad wasn't living in our house.
STN:
How did you get into the work you do today at the Human Services Campus? Was there a specific event or moment that lead you to what you are doing today?
AS:
Working in the nonprofit sector and leading a 501(c)(3) organization was not in my plans when I was in high school.
I went to college in San Antonio, which got me away from everything. I got to the university wanting to be a sports journalist. I could sit and write by myself and not have to talk to anybody. The interviewing part though – I learned you have to talk to people. Instead, I got a degree in business administration with a marketing and communication concentration.
After graduation, I moved back to Wisconsin and was working in sales and marketing. I eventually got tired of the winter Wisconsin weather, and in 1995, I moved to Phoenix and kept doing sales and marketing. 
At one point I had my own marketing business for about a year and a half. Then, I was working for a company where I was commuting about an hour in each direction across Maricopa County, and I was not happy or fulfilled at all in the job. 
In 2004, a temporary job opportunity came up at Valley of The Sun United Way to be a loan executive during the campaign. It was a four month experience that had me out in the Phoenix community that I didn't know anything about. 
I did not know about all the need that was in our community, and I didn't know about all the work the nonprofits were doing. It was great to get a quick education about what was going on, and I felt really good about it. 
As I was prepping my presentations for the United Way fundraiser, I realized that working in the nonprofit space, specifically in the area of homelessness was making me feel fulfilled in a way that I had not been before. I also started to think back on some experiences that I had with people experiencing homelessness. 
One of those moments was when I was a Girl Scout, and we volunteered at a soup kitchen. I remember thinking then that this is not right, people shouldn't have to come here for their only meal of the day. 
Fast forward to after college when I was working on my MBA, I would commute into downtown Milwaukee and see billboards of the outside temperature. It made me start thinking of the people we served in the soup kitchen, and how they were outside in the cold. I remember thinking, "This is the United States of America, this should not be happening." 
I think the experience that stuck with me the most was a 24-hour immersion experience I did through Native American Connections. I will be forever grateful to them for the experience. 
Afterward, I must have written 30 pages about my experience during that 24-hour emersion period in my journal. One thing that kept popping into my head while I was journaling about my experience was my dad.
Dad was a functioning alcoholic and died at the age of 57 from lymphoma and probably a bunch of other things related to his disease. When I saw the faces of these men who were experiencing and I looked into their eyes it reminded me of my dad. 
My dad was never homeless, but I see the edge where it can literally happen to anyone. That is why I believe to my core that it is unacceptable to have homelessness in our country we have the resources to end this problem.
The immersion experience set off a drive in me to end homelessness, and that is why I will be forever grateful for the immersion experience I went through.
STN:
When it comes to collaborating with other leaders in the community, what do you specifically look for when you are finding those leaders to help on the mission of ending homelessness?
AS:
I like when collaboration happens organically. When it comes from conversations where all the parties involved are going to get some benefit out of working with each other. 
There are long-term solutions presented by all parties to solve all of the issues surrounding homelessness. It is also important for me to find those partners that understand the problem of homelessness has to be a long-term system change type of approach. 
Yes, it is nice to hand out food, water, and clothing, but that is not something that works to end the deeply rooted issues that cause homelessness. 
I get excited when we as an organization start to have those bigger conversations that move away from the day-to-day stuff and more towards long-term solutions.
STN:
How do you like to be approached when it comes to collaboration? Is it as simple as making a phone call or sending an email?
AB:
I appreciate people reaching out in any way via phone call, email, or text. Some people just walk up to the Human Services Campus.
I do think it is important for people to come down and see the campus if they are looking to collaborate with us. We have the largest number of single adults experiencing homelessness in Maricopa County in and around our campus. 
I think sometimes it is hard for people to connect the dots until they see the need firsthand on the HSC campus and in the surrounding area. 
If people are willing to come down, spend an hour, do the tour, and have a conversation, then I think that starts to demonstrate there's some real possibility of working together.
Ultimately, it is not the conversations that revolve around one person or organization taking all the credit for doing something great. It is the conversation that sounds like how can we all put things together so that we can share in doing really important work and remain focused on the people and the cause we are serving.
STN is creating a better local media experience
Check out the full episodes, action panels, blogs and more from our brand new show, It Happens at STN.
Get our latest stories right in your inbox.