When it comes to solving the systemic problems facing communities like Phoenix, the anecdotal evidence is pretty clear: Organizations cannot do it alone and collaboration is key.
But, what about the empirical evidence? How does an organization that sets out to better its community actually prove they are doing it?
Last year, the Valley of the Sun United Way set out to track its progress in addressing issues like homelessness, food insecurity and workforce development in the greater Phoenix area.  From the STN stage in 2021, Valley of the Sun United Way launched Mighty Change 2026, a five-year plan to address those issues, and others, while holding themselves accountable.
In essence, they launched a way to gather empirical evidence and tell the story of their effort, through both the successes and the shortcomings.
This December, CEO Carla Vargas Jasa returned to the STN stage for an action panel discussion with Robin Reed, CEO of the Black Chamber of Arizona, where she unveiled the report card for the first year of Mighty Change 2026. Vargas Jasa and Reed talked about progress, problems, pitfalls and what other organizations can learn from the plan.
Carla Vargas Jasa
CEO / President
Valley of the Sun United Way
Robin S. Reed
CEO – Black Chamber of Arizona
"We set very specific measurable goals that we can track progress against and change courses as we need to based on how the community is progressing against those goals on an annual basis."
GOAL SETTING
  So, United Way is all about working together. No one works alone, right? We were certainly created to address important community needs and doing so in collaboration with the non-profit sector, the business sector and community leaders.
  We were so pleased to launch [Mighty Change] MC 2026 just a year and a half ago, right here at STN. We set some really bold goals at that time. Year one was an incredibly important foundational year for us to be able to be aligned with the community, be aligned with the corporate sector and really understand the impacts of COVID-19 to be able to achieve those goals.
  We established coalitions of nonprofit partners. We realigned our funding. We also really made sure that we engaged with our corporate partners to have them walk alongside us. We also published our first annual scorecard, which we promised that we would do when we launched important, bold goals to report progress to the community.
REPORT CARDS
  We set the baselines for the five-year goals going forward. As you can see [graphic below] in health, for example, our goal is to decrease food insecurity by 50%. Right now, 13% of our community throughout Maricopa County is experiencing food insecurity. We want to see that reduced to 7%.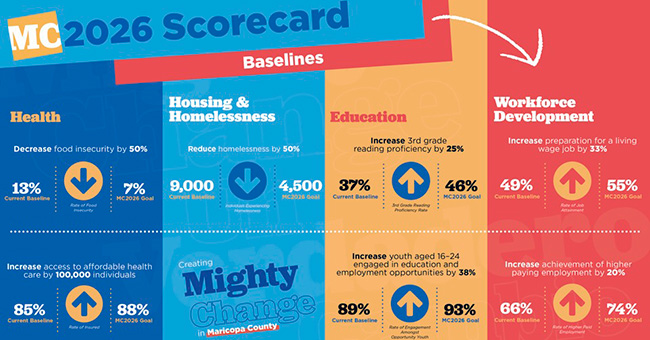 There were 9,000 people experiencing homelessness, and we'd like to see that reduced by 4,500. I will say we don't want anyone to be homeless in this community. We don't want anyone to experience food insecurity, but we set very specific measurable goals that we can track progress against and change courses as we need to based on how the community is progressing against those goals on an annual basis.
  We knew when we launched MC 2026 that we were not going to know the true impacts of COVID yet because we actually launched it mid-2021. So what you see [graphic below] is the true impact of COVID-19. No surprise, COVID-19 significantly impacted the areas that we were looking to really move the needle on; including people experiencing food insecurity, insurance in the community, people experiencing homelessness, third-grade-level reading proficiency and workforce development. As you can see, for the most part across the board, COVID had a really negative impact on all these areas.
  Homelessness, very conservatively, went up by 2000 people experiencing homelessness on the one night that the point-in-time count was executed. We saw third-grade-level reading proficiency decrease significantly. We all know that huge impact on education. We certainly saw the rate of job attainment decrease. Interestingly, [one] bright spot as we saw, the rate of higher-paid employment increased. People who were employed were likely getting increases in their salaries because of retention issues and that type of thing.
DEI PLUS
  One really important body of work was really ensuring that we were being diverse, we were being inclusive, we were being equitable, and we added being accessible to the mix. We consider diversity, equity, access, and inclusion to be institutional as an organization. How we fund in the community and how we create initiatives to address particular issues.
  We actually added 30 new non-profit organizations through that particular effort. We also made sure that throughout the programs we supported in each one of the areas of housing, health, education, and workforce development. We were targeting particular populations that were underserved, [and] that really needed support.
  In workforce development, for example, we knew that single women with children were the ones who experienced the most traumatic, effective job blast. So really targeting our efforts towards them with employment programs that we would be supporting. We also created new initiatives countywide with some of our partners – Chicanos Por La Causa, the YWCA – partners who are really deep in communities to create a new initiative called Pathways to Economic Opportunity to help to create new internships, externships, apprenticeships or mentorships for young black and Latino women who we know have not necessarily had much access to those types of opportunities as other communities.
BUILDING BRIDGES
  One of the first things that we did was mobilize armies of partners to help to reach the goals in each one of the areas of education. Again, health, housing and homelessness and workforce development, including non-profit organizations, schools, civic leaders, corporate leaders, to come together and first, get to know each other. Some didn't know each other.
  Secondly, to talk about what are maybe some gaps that we didn't identify, to begin with that needed to be addressed. What are some new solutions that we can come up with? This next year, now that we really know the true baselines, we hope to collectively develop an action plan for reaching those goals in each of those areas as we move into year two.
  We've also really supported our non-profits with capacity building over this past year, especially over these past few months. Many nonprofit organizations are no strangers to the great resignation. They have new people on their teams. They need to train new people to engage leadership, write grants, that type of thing. Then [we] bring the corporate sector into the mix to really understand the needs to be a part of those coalitions and to actually engage with us to reach those five-year goals.
GETTING INVOLVED
  Join the coalitions that I mentioned. We have lots of opportunities to get involved and engage. We have volunteer opportunities. We've relaunched those in person and virtually aligned with meeting each one of those goals. Corporations don't exist in a vacuum. We're here to help to serve corporations, to meet their CSR objectives, [and] educate them to own what's going on in the community and how they can connect without them having to do the work themselves.
  Everyone should have a voice [with] their elected officials around public policy who can help to reach those goals. We're, launching an initiative to help educate our donors and the public as to how they can do that.
"Measuring these metrics and then having the courage to step up and give an update regardless of what the numbers say. We need to know what they are. This is the future. This is how we solve so many of the problems.
DEFINING DIVERSITY
  So first and foremost, and you've heard me say this a million times, as we talk about diversity: we need to expand beyond the needs of race and gender description. True diversity should reflect the communities we live in, which includes everyone of all shapes, sizes, abilities, et cetera.
  Inclusion is the inclusion of not just people, but the inclusion of ideas and opinions and perspectives. We're seeing more companies do that. I'm proud to serve on the board of directors at the Valley of the Sun United Way. But I'm even prouder of the work that Carla is doing leading this organization. Mighty Change was a very aggressive thing to start with, but when you add to that, that it was intended to be measurable and accountable; that's really leading the way.
ON ACCOUNTABILITY
  What Carla committed to very early on, as it relates to DEI, was, she said, her organization is going to be an example, not just a leader of it, but an example of it. Then measuring these metrics and then having the courage to step up and give an update regardless of what the numbers say. We need to know what they are. This is the future. This is how we solve so many of the problems.
COMMUNITY COLLABORATIVE
  They have to understand that their organization does not exist in a vacuum. Their organization is part of the community. Whether they recognize it. Whether they appreciate it. Because their workforce is the community.
  They have to understand that those people that they employ, bring their whole selves to work. That means they bring all of the challenges and issues that they experience in day-to-day life outside of that office, into the office. And as a matter of corporate responsibility, it's important for these corporate leaders to connect to that and understand that. Because I think that if they can start to serve the needs of those employees, they're gonna build better organizations. And then there's, they're going to be better for the community at large.
  Look at the name, it's the Community Collaborative. It's actually 35 community organizations that work together. If you can get to one of us, you can get to all of us. Come through my Chamber, go through the United Way, go through [the] Arizona Hispanic Chamber, and so many other great organizations. Because all roads are going to lead back to this collaborative because we are working together, we're communicating with each other.
STN is creating a better local media experience
Check out the full episodes, action panels, blogs and more from our brand new show, It Happens at STN.
Get our latest stories right in your inbox.