Growing up in a tight-knit Arab-American neighborhood in Dearborn, Michigan, Zahraa Alfatlawi knew what it was like to have a strong sense of community at an early age. Alfatlawi says her early years in Dearborn gave her the foundation of caring and compassion that she carries with her in her everyday life.
In middle school, Zahraa and her family moved to New Mexico, and for the first time in Alfatlawi's life, she was an outsider in a different community and a different school. But instead of allowing racism and bullying to control her, Alfatlawi turned the ignorance into a positive and used it as motivation to be the best student and classmate to her fellow students.
When Zahraa and her family relocated to Phoenix, Arizona, she encountered the challenge of navigating high school remotely during the pandemic. Witnessing her fellow classmates' struggles with balancing family life and school while trying to stay safe, Zahraa recognized the need for a place at school where students could express their feelings and receive support in coping with the unique stressors brought about by a once-in-a-lifetime global emergency.
With the help of her teachers and the social workers at Central High School, Zahraa launched the school's first-ever mental health and wellness club called Zen Den.
Alfatlawi will be a freshman at Arizona State University in the fall, where she will begin her path in medicine and hopefully, one day become Dr. Zahraa Alfatlawi, who will work to make healthcare more accessible across the Middle East.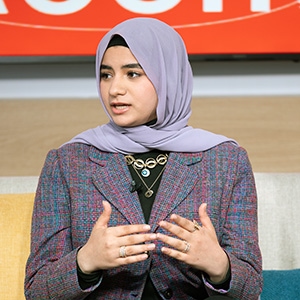 "As a child, I was the one playing with science kits and experimenting with random objects, people often said I was the "weird kid." I hope to be a role model and represent all the little girls with $2 science kits."
– Zahraa Alfatlawi, Central High School Graduate & ASU Freshman
Zahraa Alfatlawi, a recent graduate of Central High, shares her inspiration for creating her school's first mental health club called Zen Den
This article has been edited from the original interview for content, length and clarity.
STN:
Where are you from and what was growing up like for you?
Zahraa Alfatlawi:
I am an Arab-American Muslim woman, and I grew up in Dearborn, Michigan which is a very close-knit Arab-American community. Growing up in our neighborhood definitely shaped the person I am today because it taught me about the importance of having a community and the importance of being a hospitable neighbor.
The phrase "raised by a village," describes my childhood perfectly. I am the youngest of six siblings, and I embraced my role as the baby of the family. Being the youngest allowed me to observe and learn from my older brothers and sisters. Their experiences, both positive and negative, have influenced me and molded me into the person I am today. 
I vividly remember my oldest brothers not pursuing higher education, with the exception of my sister, Sarah. Seeing my brothers not pursue higher education, except for my sister Sarah, ignited my passion for knowledge, personal growth, and finding my own purpose in life. 
I left Dearborn when I was about to start middle school, and I moved to New Mexico, which was definitely a culture shock for me but moving there was also a huge part of my character development. 
I grew up in a community where everyone around me was the same, so I never felt like the odd one growing up, that was never a thing until I moved to New Mexico. I remember the first day of school, I walked into the cafeteria doors, everything was glass, and the minute I walked in, everybody turned their heads and stared at me. I thought for a second that maybe I had food on my face or something, but that was how naive I was at the time being the only Muslim girl at my school.
I definitely feel like my innocence was taken away from me due to those experiences, but they taught me a lot, and I had the opportunity to be around a diverse community. However, it wasn't without challenges, as I constantly faced being bullied because I was different. 
When I moved to Arizona, things improved, but my sense of purpose, my 'Why,' really started to take shape. I realized I had two choices with the adversities I faced: I could accept them and move on, or I could channel them into something greater than myself. I chose the latter, and it was a true mindset shift for me. If people stared at me, I decided to believe it was because I had a cute outfit, not because they thought I was dangerous. Perhaps it sounds delusional, but embracing this mindset has become my greatest strength.
STN:
If someone asked all of your teachers over the years what kind of student is Zahraa? What would they all say?
ZA:
I think they would call me a curious student. In fifth grade, I received the Quintessential Questionnaire award, and before the teacher called my name, my classmates were already cheering, 'Zara, get up and get your award!'
I love to soak up knowledge, I consider myself driven and hardworking, and I think my teachers would agree as well. I hope my former teachers would say that I go the extra mile to understand the material and I enjoy helping my peers learn the material. I often engage in tutoring my classmates who need a little extra help. In class, I think my teachers would say I am consistently active, raising my hand and displaying curiosity about various topics.
I do my best work when I have true passion and curiosity for it. I have tried throughout my academic career to find something about my material that sparks my interest, and honestly, I just like to learn.
STN:
Who are some people you look up to?
ZA:
I really look up to my sister, Sarah. We're super close, just two years apart, we are each other's besties. The two of us have been through everything together, the good and the bad, and she knows me inside out. 
She was the first one in our fam to go to college. Seeing her push through all the tough stuff at home and still keep going has been a huge inspiration for me to keep pursuing my own education. 
My other older sister, she's like a second mom to us. I feel like parts of both my sisters have shaped who I am. My oldest sister taught me about being selfless and generous, and Sarah showed me how to be driven and put myself first.
My teachers have also been a big influence on me. I had an amazing marketing teacher, his name is Chris Rooney. I still talk to him to this day.
We met my sophomore year, I was in his marketing program at Central High School and I eventually became the President of the program. Mr. Rooney taught me a lot about leadership and how to work with different people toward a common goal.
Mr. Rooney eventually became the sponsor of the Zen Den at Central High School. We collaborated to create a "business strategy" for the program, which I thought was really cool. There is a stigma suggesting that there isn't time for mental health in the business world. I believe this is incorrect. There is time to address mental health amidst the hustle and bustle of the business world, and it's not as challenging as some might think.
STN:
What is the Zen Den at your high school? Where did you get the idea to start the program?
ZA:
Throughout my high school journey, I was always aware of the growing presence of mental health issues. Being the youngest of six children, I became highly attuned to the emotions of those around me. 
Towards the end of freshman year, we entered quarantine, and sophomore year was also spent in quarantine. I distinctly remember one of my classes, AP World History, where everyone in the group chat was expressing their stress and confusion. Both teachers and students were struggling to adapt to the new situation, and it was obvious that many students felt lost in the chaos of it all. The combination of not being in school, lacking social contact, and being confined at home was not a good thing for many of my classmates.
If school is supposed to be a place where we expand our minds to help us excel in our future, how can we excel in our future if we are physically not there, or mentally not there. It's a domino effect. Good mental health, good grades, poor mental health, bad grades. It's simple when you think about it.
After hearing and seeing the stress and struggles of fellow students during quarantine, I found myself discussing mental health and the flaws in our school system with my sports medicine teacher. Starting a club or being in the spotlight was never my intention at first. However, as I passionately engaged in the conversation, my teacher suggested that I should start a club myself.
Surprised by the idea, I asked, "Can I really do that?"
She replied, "Yes, let me take you to the social worker's office."
That same day, after school, I had a lengthy discussion with one of the new social workers at school. It was a positive conversation and the social worker seemed intrigued by my idea. We had two social workers at the time, and they were extremely busy, which made it difficult for students to get time with them. 
I remember asking, "What if a student is in crisis and has to wait for an appointment to see you?" 
The thought of waiting for an appointment to talk to a social worker during a mental health crisis is unfathomable. It is not the social worker's fault, it is the lack of resources in our schools that is to blame.
We completed the paperwork and set our sights on getting the club up and running during our junior year. I recruited one of my friends to join me because I knew that word of mouth was the best way to get information about the club to students. I also utilized the marketing tools I learned from Mr. Rooney to help spread the word around campus. Our first meeting is stuck in my memory, we had a PowerPoint introducing ourselves, and we could not have been more thrilled with the turn out I think there were over 30 students at our introductory meeting.
After establishing the club, we met every Wednesday after school. Each semester, we set goals for ourselves, prioritizing learning about mental health. We discussed topics like depression and anxiety and organized activities like students writing letters to themselves, which we delivered at the end of the semester. 
As a fun stress-relieving event, we organized a teacher dunk tank during finals week, where students who had A's in their classes could dunk a teacher for free. As you can imagine it was a hit with my classmates.
STN:
What are your top five qualities or characteristics of a good leader?
ZA:
I would say my top five qualities are: a good leader must be willing to be vulnerable, they must be passionate about the work they are doing, they have to have a tenacity about them, they must be a people first type of person and finally they have to be creative.
STN:
In ten years you come back to Central High School for your reunion, what is Zahraa Alfatlawi doing in 2033?
ZA:
I want to be able to use my voice to motivate and represent others, especially young Muslim girls. 
As a child, I was the one playing with science kits and experimenting with random objects, people often said I was the "weird kid." I hope to be a role model and represent all the little girls with $2 science kits. Hopefully, I can inspire them to pursue their passions fearlessly.
If there were ever a magazine about me, I envision the title being "Dr. Zahraa Alfatlawi: Opening Clinics throughout the Middle East, Providing Prevention-Based Medicine" – that would be my ultimate dream.
STN is creating a better local media experience
Check out the full episodes, action panels, blogs and more from our brand new show, It Happens at STN.
Get our latest stories right in your inbox.