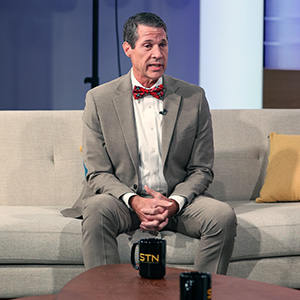 Growing up surrounded by a family of blue-collar workers in Green Bay, Wisconsin Jackson Fonder, CEO at UMOM New Day Centers, figured he would do the same thing after high school. 
However, Fonder dealt with a lot of dysfunction in and around his family living in Green Bay, and he eventually realized there was no future for him there. Fonder left the Midwest shortly after high school and spent 22 years traveling the globe while serving our country in the Air Force.
After he left the Air Force, Fonder spent 16 years as an executive for a Fortune 100 company. Eventually, he found his way to community work within his company. Today, Fonder leads the UMOM New Day Centers in their fight to end family homelessness.
"At this stage in my career, I am driven by the opportunity to mentor folks and watch them succeed and grow in front of my eyes at UMOM."
– Jackson Fonder, CEO, UMOM New Day Centers
Jackson Fonder shares how he transformed the hand he was dealt into a helping hand for others. He also discusses why future change-makers are an important key to solving the problem of family homelessness.
This article has been edited from the original interview for content, length and clarity.
STN:
Where are you from and what was growing up like for you?
Jackson Fonder:
I was born and raised in Green Bay, Wisconsin. Go Packers! We were a blue-collar family of five. My dad was a truck driver, and my mom stayed home with us. The rest of our family were all factory workers, very blue-collar types of jobs.
I was a high spirited child, trouble usually seemed to find me one way or another. Home life was kind of tough, there was a lot of dysfunction in and around our family. But who doesn't have at least a little dysfunction in their family, right?
I went to a big high school and graduated near the bottom of my class, so college was out of the picture. No one in my family had gone to college. I got a job after high school working for a stone company in a stone yard, and kind of figured I would work there for a long time.
I ended up needing to run away from Green Bay. I knew there was no future for me there. As I mentioned before, the dysfunction in my family was pretty high. I knew the best thing for me was to get out of there. To this day, I don't have a relationship with my parents.
I joined the Air Force, where I spent 22 years serving; that took me around the world a few times and then some.
Eventually, I did go to college. I spent 10 years going to night classes while I was still working full-time. I paid for it all on my own.
So that is me as a young man climbing out of my situation. That was the hand I was dealt. I had a little bit more to deal with than some, and maybe a bit less than others but that was the hand I was dealt. I had to figure out how to deal with it, just like we all do with the hand that we are given.
After serving in the Air Force for 22 years, I moved on to the corporate world, where I worked as an executive at a Fortune 100 company for 16 years. Through my work in the corporate world, I started to get involved with various community efforts. Everything from work with the United Way, to various other community tasks force groups. I really grew to like the community work that I was doing.
Luckily for me, I was able to take early retirement from corporate America, and I slid into working in the nonprofit sector. That was 13 years ago, and I have not looked back since.
STN:
When faced with adversity or any type of difficult situation what inspires you to keep pushing forward?
JF:
When any type of adversity comes up the thing that keeps me moving forward is seeing all the people around me at UMOM New Day Centers.
At this stage in my life and in my career, all of my time is spent around really talented people who are trying to move the needle. They all inspire me. Every single one of them could be doing anything else, but they all choose to do work in our community.
When I think about our staff at UMOM we are talking about case managers, workforce development specialists and shelter assistance staff. These folks can be doing anything they want, but they choose to work at UMOM, and they choose to do this kind of work which is not an easy thing to do.
They all inspire me. I love being around their effort, I love being in a room with really talented people who are driven to create change.
STN:
What do you look for when you are seeking out partners to collaborate with in the community?
JF:
That is what STN is all about if you think about it. You have created a space where a variety of organizations come together to collaborate, discuss community issues and problems, talk about community solutions, and have an opportunity to solve some really big issues together.
When I think about collaboration, I want people to be easy to work with. I want them to be smart, and I would love it if they were a leader in the field without an ego. I love having the opportunity to sit and talk with a person or a group of people and figure out how to solve a problem.
STN:
How do you like to be approached when it comes to other leaders or businesses looking to collaborate with UMOM New Day Centers?
JF:
My bowtie is very formal, but don't let it mislead you, I am wide open and very transparent. You can approach me any way you like. 
I don't care if it is in the hallway, at the STN studios, or in my office. If we are talking about the problems our community is facing and talking about potential solutions to those problems then I want to talk about it.
STN:
What are some things that you are looking forward to in the near future at UMOM New Day Centers?
JF:
When I think about the future at UMOM I get excited because we have a lot of great things happening on our campus.
Accomplishing our mission of solving family homelessness is tough, but being in the same room alongside my counterparts working to find solutions to a growing problem is exciting. 
Another thing that gets me excited is our employees. Recently, we have been able to internally promote a few of our folks. I love having the opportunity to watch our staff grow. At this stage in my career, I am driven by the opportunity to mentor folks and watch them succeed and grow in front of my eyes at UMOM.
STN:
What advice would you give someone who may have just stepped into a new leadership role?
JF:
That is a tall order, I don't know if I am in a position to give advice on leadership. There are so many things to think about. I will focus on one aspect.
It is not about you. It is not about you at all. It has never been about you. It is about the mission and it is about accomplishing the mission. You get the work through people. That means you have to develop people. You have to check your ego at the door and develop them. Your success and their success are tied together. You can never forget that.
I am an old guy. I have been through the wringer 10 times. I have had a lot of success and I have had a lot of failures. I would not change a single thing. All of those experiences made me who I am today.
If you would like more information on UMOM New Day Centers or would like to get involved with their organization visit their website https://umom.org/
STN is creating a better local media experience
Check out the full episodes, action panels, blogs and more from our brand new show, It Happens at STN.
Get our latest stories right in your inbox.