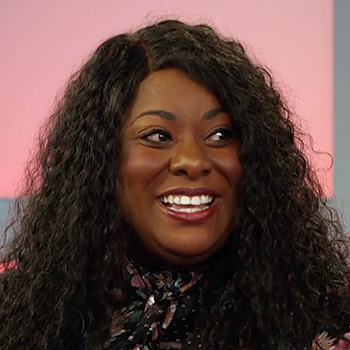 The acting bug bit Chanel Bragg when she played a tree in 'The House on Mango Street.' At the time Chanel was in fifth grade and her teacher Ms. Peralta was trying to use theater as a way to engage her students in the arts, and keep them out of gangs and off the streets.
Fast forward to February 2023, Bragg is the Associate Artistic Director of Arizona Theatre Company and she will make her ATC directorial debut in 'The Glass Menagerie'. She was also highlighted in Phoenix Magazine's Great 48. Bragg has spent her career working to make the Phoenix theater community diverse.
"We're telling stories of humanity. We're having people sit in a room and have a shared experience at the same time. That is how you improve your empathy."
– Chanel Bragg, Associate Artistic Director, Arizona Theatre Company
Chanel Bragg talks about the importance of building inclusive, diverse local theaters.
This article has been edited from the original interview for content, length and clarity.
STN:
Let's talk about how you got into theater and how you got into the chair you are sitting in right now.
Chanel Bragg:
I have a deep love for theater, it started back when I went to PT Cole Elementary. I had a teacher, by the name of Ms. Peralta who was looking to engage our community and keep us out of gangst. So she introduced a theater program to the school, and I did a show called 'The House on Mango Street.' I played a tree, and I was a fierce tree. I got the bug then, and I still have the flyer from my very first show in Ms. Peralta's fifth-grade class. That carried over into junior high, then on to high school, and then obviously here I am today.
STN:
Would you be what some consider a theater kid?
CB:
Absolutely. Yeah. I was a chess player, too, so I was a nerd, like a real big nerd. It has carried on into today because I love 'Game of Thrones.'
STN:
You and I were talking in the green room before we got started today that for me, the production 'Rent' is kind of the thing that I compare everything to. When I go see a production, it's like, was it as good or not as good as 'Rent?' What is the show that you compare everything to?
CB:
For me, it would have to be the very first project I was in as an actor, which was, a production of 'Hairspray.' I enjoyed that production so much because in the first number alone, it had over 500 light cues in it, and that was really exciting to me.
STN:
For those who don't know, what is a light cue?
CB:
We have a lighting designer that sits down to tell the emotional story through lights. They program a series of different looks. So it could be, if it's something's more flashy, they can choose flashing lights or quick colors or use movers, to move light to impact a scene and make it more interesting. Or, if they want to do a more centralized look, they might use a follow spot or program looks. In fact, in 'The Glass Menagerie,' we are using what is called IQs. IQs are lights that follow, so as our main narrator is walking and talking to the audience, those lights are following him continuously.
It makes or breaks the entire experience. If you have a really strong lighting designer it truly can help enhance the storytelling so much more and provide an emotional depth that you didn't even realize.
STN:
What was your role in 'Hairspray?'
CB:
I was one of the Dynamites. It is like a 60's singing group of girls we had these sparkly dresses, and we sashayed around. Fun fact I sashed so hard that I knocked my back out of alignment and had to go to chiropractic care after that performance because we did almost one hundred performances of that show.
STN:
I want to spend some time talking about ATC (Arizona Theatre Company), but first I want to brag about you a little bit. You were recently highlighted in Phoenix Magazines Great 48. So, I think the question that I like to ask folks when they receive an award or an accolade like that is why do you think they selected you? What was it about you that they keyed in on?
CB:
Number one, I am humbled that I was selected in the first place. I'm grateful this position allows me a certain visibility that allows people to see more insight into my work. I think it's been years of cultivating work within the theater community of really focusing on the things that matter to me which is true representation in the arts. From 2009 till now that has been my sole mission. I've created, produced, directed. I say I failed forward essentially and learned on my own because I wanted to take care of some of the things that were happening in the community. At the time people were saying, "no one is coming out for our auditions" or "we don't know how to reach certain communities." And I was saying, but we're here! We're here, and we want to work, and we're really excited to do theater.
I decided to show them that we're here and that's what founded my very first project 'The Soul of Broadway.' We wanted to provide exposure for black performers. Of that first cast, one of our members is on HBO right now in two different shows. Another member was in Tokyo Disney. Another one does continual cruise ship work. Another one is working at GCC in the theater department.I'm in this position, and another one of our cast members is running his own theater in Tennessee. We have all gone on to do really incredible things, and we all started there together, just showing our community that we exist.
STN:
You mentioned a word in the representation a few moments ago, and Arizona Theater Magazine actually named you one of 10 Rising Black women. We talk a lot here at STN about diversity, equity, and inclusion. It's one of the pillars that we have here, and it's certainly an emerging conversation in the theater world. How do we get more people at the table? What is your answer to that question? When people say, how do we do this, Chanel? What are your thoughts and opinions and ideas about how we can bring more people, more diverse people to the party?

CB:
You can't just talk the talk, you gotta walk it. The work that I've been doing in this area has been since 2009. I also founded a group called The United Colors of Arizona Theater, specifically that supports over 400 plus BiPOC actors and actresses that wanted a place for networking, a place for community, and a shared and safe space, that was created to kind of help with this issue and it has been happening since 2015. In 2020 when we had the large racial reckoning that was going on within the United States, I think a lot of theaters really stood up post George Floyd and said, this is our commitment. I want to challenge all those theaters that made those commitments. Are you still following through with them today? It's been almost three years. What are you doing? Are you holding up to your mission statements? Those letters that you put out, that you said that you were going to put more effort in this area? I challenge everyone to look deeply and see, have you done that work? And, what more do you have to do?
STN:
How important is it also to go beyond the stage? It's not just enough to cast somebody and say, look, we did what we told you we were going to do. We have to have directors, writers, and producers.
CB:
Yes. It's important to have people on the other side of the table that are creating the art. That's why Newark is so important because you have those playwrights telling stories that weren't often discussed in the theater canon. It's very antiquated. Without new works and new stories being told, how do you tell the stories of today?
However, though, then you take a director like myself that is tasked with directing 'The Glass Menagerie' by the Tennessee Williams. How can I turn it on its head to bring it a little bit more current and up today? Taking those risks and bringing those old stories a newer, fresh perspective sincerely is how we continue moving forward. Without that connection to community, then to me, what are we doing here? We're telling stories of humanity. We're having people sit in a room and have a shared experience at the same time. That is how you improve your empathy. By sitting in someone's shoes for a minimum hour and a half to two hours, hopefully less, unless is a really long show like Angels in America. Where you'll be spending six hours of your time, but you get a chance to see someone from a different perspective than you would have before, and maybe you'll leave asking yourself questions or understanding someone a little bit deeper in their perspective and that makes you a better well-rounded human.
STN:
Is there a little twist that you have put on your version of 'The Glass Menegerie?'
CB:
As far as twist is concerned, I think people will think it's a twist. It's not a twist. I just cast the people that showed up for auditions and read the best.
STN:
I love that! Period. Isn't that how it should be?
CB:
That's the way that it should go! I'm very fortunate that it just happens to be that my Amanda character happens to be Black. My Tom happens to be white, my Laura happens to be a part of the AAPI community. It just worked out that way. I had several amazing, amazing people that came out and auditioned. You want to talk about the palpable energy that transferred between the actors that I cast. It was a no-brainer. I was like, oh, very clearly. Your mother and son. Okay. So I cast that way.
STN:
You talked about community just a few moments ago. You've got Community Night, you've got Pride Night. So you're doing some things where you're reaching out to folks and saying, we want you to be a part of what's happening here. What happens on either one of those nights? Let's start with Community Night. What kinds of stuff are you trying to get together?
CB:
It's important, number one, that you give access. Right? Sometimes I think theater is seemed as an elitist activity. It is actually not. It is incredibly affordable to go to the theater. You just have to have theaters that are willing to have programs that help the whole community be able to come see it. Right. It's not just reserved for people with money or people that are retired or anything like that. Everybody can join. Our community night is fantastic because we have a designated night where you can come and for an extreme discount, you can see the show. Pride Night, of course, is a fantastic time that we celebrate the LGBTQ community. We also have a partnership with United Colors of Arizona Theatre, where we have a diversity night where they can come and support theater too.
I've been very grateful that before I stepped into this position, I was already working with ATC in that capacity, along with UCA, that's the acronym for United Color Arizona Theatre, and we were already partnering with them doing their talkbacks from a diverse perspective. Pre-COVID, we were maintaining this partnership with this theater. I'm grateful that this theater was already thinking in that way. When I got approached to be the associate artistic director, I was like, this theater's doing the work, and I want to be a part of a theater that understands that commitment and that's why I'm here.
STN:
We know that one of the things that is important to growing anything is partnership. As you're trying to bring value to our community, what kind of a partnership would you like to engage in? What kind of partners are ideal for ATC?
CB:
What's great about the season is that we program everything with a reason. Sometimes it's thematic. Sometimes we wanna drive a certain thing. This year, for example, we had a show, that was partnered with Lead Guitar, which is a fantastic program for young children that gives them access to the arts in terms of musicianship. The show that we were doing had a guitar player in it, and it was fantastic. So that was an interesting link. Then we did Christmas of Pemberley, which is Jane Austin fan fiction, and Make Way for Books came and did a talkback with us and we talked about their reach within the community too. The biggest one we have for the whole season, we are partnered with Banner Medical Alzheimer's Institute, which is incredibly important because the next show we're doing is about dementia.
And so we'll be having talkbacks with the community after that. Anyone that's interested in learning more can come to those talkbacks. It's about educating the community that way as well. So not just showing the play and having your empathy engaged in that way, but also learning something afterward. That partnership is great because who knows, maybe someone leaves with a pamphlet or more information than they came to the theater with.
My grandmother was recently diagnosed with dementia, so reading the PREPA script really hit me incredibly hard as that's something that my family's navigating right now. I for one will be at those talkbacks learning as much information to help even in my own, personal life with my grandmother.
STN:
You've got 'The Glass Menagerie', which is going to be right here in Phoenix at The Herberger Theater Center, February 26th through March 5th. As the director, I'm sure you're really amped up. What do you want to say to people who are already committed to being there?
CB:
I hope that when you come and you see this show and you understand how very complicated these relationships are with these characters, how it really does reflect humanity, but ultimately it's still a story about love. I think if you've watched 'The Glass Menagerie' before, you'll see that mine is different. Instead of the mother being the antagonist, which is what has been portrayed in the past, I actually think the real antagonist is their situation. They were abandoned by the father, and the three of them are dealing with the aftermath of that, and how they're dealing with that is the play.
For more information on the Arizona Theatre Company & to see their schedule of shows visit https://atc.org
STN is creating a better local media experience
Check out the full episodes, action panels, blogs and more from our brand new show, It Happens at STN.
Get our latest stories right in your inbox.