All the assistance and good intentions in the world don't make a difference if the people who need it can't get to it.
That's where Project Connect comes in. The initiative from the Human Services Campus aims to meet people experiencing homelessness, or on the brink of homelessness, in their neighborhoods to alleviate the need to travel to get help.
Featuring everything from housing support to job search assistance to healthcare screenings and even legal assistance, Project Connect provides services to hundreds of individuals and families who may not be able to access it otherwise.
Here is how Project Connect works:
Whether it's just being that smiling face to them and just being nice to them and compassionate, every interaction you have can make a difference. You're helping something greater than yourself.
Rachel Youngworth
Project Connect Volunteer
You can tell by the participation and the number of people that we have in line and coming in here, accessing services today that this event was really needed.
Terry Araman
Human Services Campus Board Member
These people here, they are here to help you, not turn you away. They are here to help. And I'm glad that they are here doing that. That's why I appreciate this.
Anthony
Project Connect Client
In 2022, there are an estimated 5,029 homeless people living in Maricopa County, an increase of 33.5% from 2021.
Source: 2022 Point-in-Time Count
Maricopa Assoc. of Governments
In 2022, there are an estimated 5,029 homeless people living in Maricopa County, an increase of 33.5% from 2021.
Source: 2022 Point-in-Time Count 
Maricopa Assoc. of Governments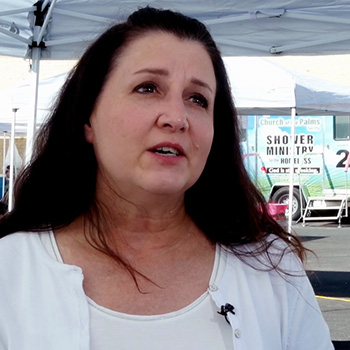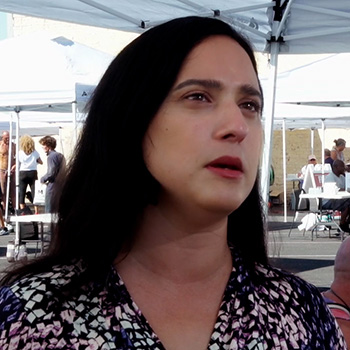 Amy Schwabenlender
Executive Director
Human Services Campus
Yassamin Ansari
District 7 Councilwoman
City of Phoenix
Services for unsheltered individuals living around the Valley provided through Project Connect
STN:
Tell us, in your own words, what Project Connect is:
AMY SCHWABENLENDER:
Every six to eight weeks or so, we take Project Connect on the road all around the valley because people are experiencing homelessness everywhere.
YASSAMIN ANSARI:
The idea is to bring services that the campus offers to the unsheltered population around the Valley. Meet people where they're at. We wanna make sure that folks know what kind of incredible services they have access to and really give them that one-on-one shift support to get the help that they need.
STN:
Why is location such an important element of what Project Connect does?
YASSAMIN:
We know that meeting people where they're at is extremely effective. The more we can do this in different corners of our city, the better.
AMY:
What our outreach team has learned is that not everyone even knows what's available to them. We have over 800 unsheltered people in this [Downtown Phoenix] neighborhood.
STN:
When it comes to providing assistance where people need it, what makes the Project Connect effort stand out?
AMY:
No one service provider does everything that people need to end their homelessness. And the beauty of Project Connect is that it is all about collaboration.
YASSAMIN:
There is not a one-size-fits-all solution. It's truly a variety of different services in a one-stop shop. We're trying to provide the support right here on site so we're not making people come back for another appointment, but rather giving them that case management that they need. Today.
—
For more information on the Human Services Campus and Project Connect visit their website.
STN is creating a better local media experience
Check out the full episodes, action panels, blogs and more from our brand new show, It Happens at STN.
Get our latest stories right in your inbox.