Pedro Cons is no stranger to the impacts of violence. He carries the scars. Both mental and physical. But since his days growing up on the streets of South Phoenix, he has turned his attention to making a difference and making his community a better place.
In 2020, Cons was named the CEO of Adelante Healthcare. He is also a regular participant in leadership development efforts around the Valley including those through the Kellogg Foundation, Multicultural Leadership Institute, and the Hispanic Leadership Institute.
Now, he joins STN for an Arizona Achievers interview where he talks about the Adelante Healthcare mission, the value of laughter and why, he says, it is necessary to follow before you can lead.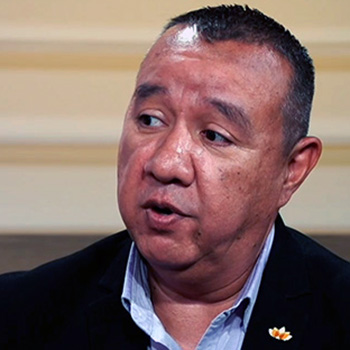 "It's really looking and observing and learning every single day about how you can be better for the community and be better for the leaders that you're serving."
– Pedro Cons, Adelante Healthcare, CEO
Adelante Healthcare CEO Pedro Cons talks about growing up amid deadly violence and the value laughter plays in leadership
This article has been edited from the original interview for content, length and clarity.
STN:
We'll get into your leadership style and some of the things learned along your path in a few minutes, but first let's just a little quick explainer about Adelante Healthcare. You have been the CEO there for a couple of years now, walk us through who Adelante Healthcare serves and where.
PEDRO CONS:
We do have nine locations within Maricopa County. We go as far west as Wickenburg and Gila Bend, and as far east as Mesa. We serve 85,000 unique patients in Maricopa County with a little over 300,000 patient visits on an annual basis.
STN:
This is the first time you have joined us, but it seems like every time we go out into the community and work with people who run in similar circles or every time we sit down with somebody and we mention Adelante or your name comes up, they say, "Oh, Pedro. He is fantastic. Oh, he is amazing. Oh, what a great leader."
What are some of those leadership philosophies that you adhere to that really have helped you earn that reputation?
PC:
I guess for me it is to be a servant leader. To be authentic. To be yourself and original. And that [means] be a follower first. Good followers make great leaders. I've definitely learned to follow a ton of great leaders in this community and continue to do so and learn from them as well.
STN:
Let's expand on that for a minute. What do you mean when you say "be a great follower?"
PC:
It's really looking and observing and learning every single day about how you can be better for the community and be better for the leaders that you're serving. Helping them anticipate their next move so that they can continue to do great things in the community and have the kind of impact that they have.
STN:
You've mentioned – and we hear this from a lot of leaders – that you love to embrace challenges and step outside of your comfort zone. When you were named CEO of Adelante Healthcare, was that something that was outside of your comfort zone?
PC:
Oh, definitely. I was an executive for a number of years with an organization here in the Valley called Chicanos Por La Causa. David Adame, Edmundo Hildado, all those great leaders. I had a really great opportunity.
One of the trainings that we received under Edmundo's leadership was through Achieving Excellence and it was actually a Harvard program. One of the things that they taught was to take yourself out of your comfort zone. If you're not taking yourself out of your comfort zone, then you're not making movements in the community. It is something I always challenge myself on and taking the role as a CEO was definitely one of them.
STN:
One of the things we talk about a lot on this series is finding purpose. Sometimes your purpose happens to you when you're 10 or 12 years old. Sometimes you don't find it until you're 60 or 70. You've had some life situations when you were younger that really helped you find purpose early on. What can you tell us about that?
PC:
Absolutely. One [was] almost losing my life when I was 17. I grew up in South Phoenix and in particular the very heart of South Phoenix. I was involved in just what was happening in the community. There were a number of circumstances that just continued to happen. All those experiences I learned from. I've lost friends during those times through gang violence and other types of endeavors.
Every single one of them has been a life-changing experience for me. That really showed me or gave me some purpose in regard to what I'm doing today. Being here to help others and to help others grow and develop as leaders.
I really take that to heart and feel like that's why I'm here on this earth – to help our organization get better. Also to help our employees and everyone that wants to be a leader within this community. Help them get there.
STN:
There were a few times when you were minutes away from being caught up in that gang violence, weren't you?
PC:
Absolutely. I had a friend. I remember visiting with him. I was just getting ready to start college and I was telling him why I wanted to start college, because of all the other things that were happening in the neighborhood. I remember him saying, "You know, I don't know how you're going to make a difference. It's a waste of your time to go to college." You know, very few individuals from my neighborhood were actually taking on that task or that endeavor.
Moments after leaving his house he was gunned down in a drive-by, or walk-by, shooting. In that moment it was one of those things where you realize that it could have been you. Maybe it's someone else or there's a higher power looking out [for you].
STN:
That's powerful, emotional stuff. You have physical scars too, right?
PC:
Scars. Definitely. Gunshots and stabs [wounds]. Those physical scars are always there.
STN:
We talk about overcoming that adversity and, with you specifically, what are some of those things that still resonate? Things that you now use in your everyday leadership. What are some of those things that you really lean on that help you today?
PC:
For me, it is about giving somebody the opportunity to really be open and express themselves, and to be empowered to allow that space where that communication can happen. Because trauma is everywhere and our teams are learning about being trauma-informed. Not only how to work with themselves, but with our patients.
It is a very important part of who we are as an organization. It's a very important part of what we need to do in order to continue to develop. We need to be able to express ourselves in that way and be open with each other and learn to trust. Our organization has definitely moved forward with how we are open with each other and [be] trusting and communicative and, making sure that we're focused on what trauma means to all of us.
STN:
When it comes to your company culture, other than trust, what expectations that you have for your employees, and vice versa, that they have for you?
PC:
One of the things we're doing right now is expecting a culture of care and what that looks like for every single employee within Adelante Healthcare; to be there for our employees, our staff and every one of our patients that we encounter. Our goal is that when people come through our doors, they know that they're receiving the trauma-informed care that they deserve. Us getting better and really improving upon our culture as an organization is inspiring and empowering.
STN:
We talk a lot about the power of partnerships here at STN. When you think about the frontline work you do in the community how critical is it for you to come up with strategies that welcome those partnerships so that organizations, especially healthcare organizations, can break out of the silos they're typically in?
PC:
That part becomes extremely important in terms of us not just focusing on primary care, but the social determinants of health, employment, housing, and food insecurity. So many things go into that.
And how do we partner with others? I always have great conversations with great organizations like CPLC and Goodwill, with Tim O'Neill and others at the Mayo Clinic. Just recently we had a couple of meetings with the Mayo Clinic. [We] are looking at providing food boxes to our staff or our patients. Food insecurity is huge in our community and it hasn't gone away. The pandemic just exacerbated the need.
Those are community partnerships, and we need to talk about them more.
STN:
We talked a little bit about that silo where leaders can find themselves stuck. What would be some of your advice for organizations or leaders out there who get the day-to-day and they're achieving success and things are going really well, but they really haven't stepped outside to have lunch or coffee with someone like you? How do you develop that power partnership mentality?
PC:
I like to quote just some of the other great leaders that I've had in my life and as well as ask myself, "who don't I know that you know, that I should know?"
That opens the doors for additional partnerships. Folks come together because truly it is about that first conversation. You have that first conversation, a coffee, a lunch, whatever it may be, and just talking about what are your values as an organization. What goals you have as an organization? At some point, you will find that middle ground. The things that you have in common. It's called collective impact. Collective impact to me is when two organizations come together and have the same agenda and are able to find that common mission they can work on to have an impact in the community.
STN:
You also seem to rely a lot on your sense of humor. We're sitting here talking about you being shot and stabbed, and then all of a sudden you're making us laugh, 30 seconds later. How important to you is humor in leadership?
PC:
It is extremely important. My father, I learned a lot from him. He's no longer with us, but he was a man of integrity and a man of humor. He can make you laugh any moment, any time, any day. Just seeing him and remembering that skill that he had. Being able to be there with individuals no matter who you were. You could have been a doctor. You could have been just somebody off the street. He always engaged with individuals. So, it was something that I aspired to have in my life as well. I would like to say that I received a little bit of humor from him.
STN is creating a better local media experience
Check out the full episodes, action panels, blogs and more from our brand new show, It Happens at STN.
Get our latest stories right in your inbox.