Luis Gonzalez had big dreams as a kid. He dreamed about getting a game-winning hit in game seven of the World Series. But, long before that November at bat against the New York Yankees in 2001, Gonzalez wanted to make sure he did something more than just win on the field.
Throughout his career in baseball, Gonzalez found ways to help teammates and inspire fans. Now as the Senior Advisor to the President & CEO for the Arizona Diamondbacks, Gonzalez sat down for an interview about leadership, how to handle success and how a professional team can compete to win on the field and commit to bettering a community at the same time.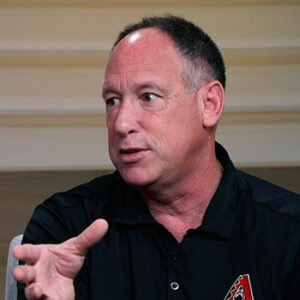 "It's about finding the right people. Engaging ourselves with the right organizations that we feel are going to make a huge difference in a lot of people's lives."
– Luis Gonzalez, Arizona Diamondbacks, Senior Advisor to the President & CEO
Luis Gonzalez talks about acknowledging success, accepting praise and growing beyond an on-field legacy
This article has been edited from the original interview for content, length and clarity.
STN:
Let's talk leadership first. During your team's championship run in 2001, there were some locker room dust-ups. You had to separate some guys at times. When we try to translate what that means in the business space, how do you put adversity aside? How do you focus everyone on achieving a common goal when things like that are happening inside an organization?
LUIS GONZALEZ:
Our first one was during Spring Training. You have a lot of guys in there trying to make the team. Everybody wants to make their impact on the ball club. Sometimes some guys are a little more forceful than others. You gotta kind of feel your way around locker rooms just as you do in the everyday work world.
There are guys that are a little more vocal. There are guys that are quiet. Quiet leaders. You got to find your way through it. We did with that team. We figured out these are the guys that you can have fun with. These guys take their job really seriously. You have to figure out who to use kid gloves with and then who the other guys are that you can really have a good time with too.
STN:
When you talk about going through difficult times, whether it's that season or another season –  you've been on teams before where the team is winning, the team is doing well, but you personally might be in a slump or things aren't going well. There are some organizations we work with where things may be going so well collectively but one person is just struggling or not finding their footing. How did you deal with "everybody's being celebrated," when you look in the mirror and you go, "Boy, I'm just not delivering?"
LG:
It's going to happen. You play 162 games in baseball. Not every day is going to be the day that you have a great game. You find a way to do something positive to help the team in any way that you can.
Just like in everyday life and in work, there's going to be guys that are really pulling their weight and there's going to be some people that are really dragging behind. You try to either help guide them and pick them up, or you try to cover for them while they can trying to get their feet back on the ground.
Everybody's different. You don't know if they're having family problems or financial problems. [There are] just different things that are going on in today's society that sometimes people don't want to talk about. You just kind of feel your way through that and then try to work through it if you can.
You try to help out your employees and your teammates as much as you can.
STN:
What were you like as a player? If you were going through a tough time, did you like somebody kind of going, "Hey, what's up, let's talk?" Or did you prefer to figure things out on your own and not really verbalize what was going on?
LG:
You always try to look for that security blanket. Somebody that you could really trust and rely on to help you out.
When I played here for the Diamondbacks, I was one of the leaders of the team; being a veteran guy. I tried not to show when I was frustrated because I always felt like guys were watching me. They watch your every move when you're one of the top guys. Everybody's always watching. It always starts at the top. I always felt like guys are watching what I'm doing. There were times when you go up to the plate and you just feel like, "Oh man, I don't have it today." But I'm not going to go in there and tell my teammates, "I'm not feeling it today. You guys gotta pick me up."
For me, it was just trying to navigate the way through. Try to get by on those days that I really wasn't feeling good. Then, on the days that I felt good at the plate and playing really well… you just try to ride it out as long as you can.
STN:
Now that you're in the front office, when the team is going through a difficult time or a difficult season how do you guys rally?
LG:
Our team president [Derrick Hall] does a really good job of that.
Employees don't have any control of performance on the field. They can't help the wins and losses out there.
Our big thing is: find a way to say yes to our fans, to everybody out there. We have to try to draw them in somehow. Just being a positive influence out there. Sometimes people are going to come, they're not going to have a good experience at the game. Or, maybe they may have the time of their lives. We want to help in that experience to make it so much fun.
That was the same way as when you're a player. I was one that always worried about the fans because I wanted them to have a good time. I always played with the mindset that they're coming to see me play. That's what always made me try to play at my peak level. Because, if I took days off, you know, "I don't need to go out there and play hard today," that might be the only game that that person comes to see. I don't want them to be disappointed in the way I played. I wasn't going to get hits every day, but I was going to give you everything I had. Sometimes it may not look good, but I was going to give you everything I had.
STN:
How about the transition for you personally? Was it a smooth transition for you or were you struggling a little bit with giving a game up and then moving into a different role?
LG:
This is something we've done our whole lives. As a little kid growing up, you dream about playing Major League Baseball. And you've done it every day. You've had a routine your whole life. And when that routine gets taken away from you, it's very difficult. It's a lot of stress. You don't know what you're going to do next. You don't know what path you're going to take.
I was fortunate that I was able to come back here and be a part of something that I love to be a part of. Being around the ballpark. Being around our fans. But for a lot of athletes, it's really a difficult time when you have something that you've done for a large majority of your life, and all of a sudden you don't have that anymore.
It was really difficult for me. After I retired, spring training came around the following year and I was waking up early in the morning and feeling like I needed to be somewhere and I really didn't have anywhere to go. That was probably the most difficult part for me. My wife and my kids were trying to help me navigate through it. But man, I was struggling for a while.
STN:
Let's talk about success, and dealing with success.
You have the ultimate moment for any kid dreaming of hitting a game-winning base hit in game seven of the World Series. What did that moment do for you? How did you manage the success of that moment and then all the things that have come after that moment?
LG:
My grandparents were really good at keeping me and our whole family really grounded. We didn't grow up with a lot of money. My mom was a school teacher who came from Cuba. I learned very fast at an early age to appreciate everything you have, and treat people the way you want to be treated.
I always went with the mentality of the same people you pass on the way up are going to be the same people you pass on the way down. So I always try to treat everybody the same. I don't care if you're making $200 million a year or if you're making $2 a year. I always try to treat everybody with respect. Money does not change how I feel about you and our friendship. To me, it doesn't signify who you are or your ability to impact people's lives.
I was fortunate to get the game-winning hit of game seven in the World Series. Millions of people want to do it. I didn't lose the perspective of how valuable that is and how many people would've loved to be in my shoes. Because I'm a sports fan. I sit on the couch too and go, "man, that would be awesome to do something like that."
To find yourself in that moment and to be in that spot, was something that I dreamed of as a kid.
At the same time, I still didn't want to lose perspective of the impact that you make on the field. Getting that game-winning hit impacted a lot of people. Everybody celebrated in the whole state of Arizona. But for me, the impact that you make off the field, like doing things in the community, spending time with people, just spending moments with kids and going to schools and donating your time to charities is what I want to be remembered more for than being the guy who played baseball.
STN:
It seems like that moment didn't necessarily change you. If there were people in your life before that moment, they would say, "Oh, he's the same Gonzo that he was." But you're not downplaying it either.
LG:
It's the biggest thrill now, 20-plus years later, and I go out in the street and somebody comes up to me and tells me, "Man, I remember where I was at."
That makes me feel super proud to be a part of that now. I get embarrassed sometimes because I was the guy in the moment, but we had a great team. I don't get to that moment without the other guys around me. For me, it was a team effort. We had great fans. Our fans helped rally us through game six and game seven.
I just felt like God put me in that spot at that moment knowing that I wasn't going to change the way I treat people or the way I am. I was still going to be the same guy that I was before that.
STN:
You mentioned community involvement. What would your advice be for the business leaders out there who maybe don't necessarily have that on their radar? These folks are killing it in business. They're growing. They're a great leader. But they haven't even thought about potentially using that influence to benefit the community.
LG:
Sometimes it's good to back away a little bit and get engaged and know who your employees are. Not just for the work that they do but just for the people they are. Get to know a little bit about their families, who they are, what drives them. What will make them better employees? And acknowledge them when they do well.
We're all looking for that acknowledgment. Pat us on the back once in a while, Or if we're not doing well, say, "Hey, what, what can I do to help to make you get to that next level?"
Sometimes that person might be a leader, they just haven't been pushed a little bit up toward the edge. If I see my boss come up to me and say, "Hey, I know you got it in you," that'll motivate me a little bit more. I just needed that little push to say, "Hey, he's noticing me. I know he knows that I can do it and I know I can do it."
STN:
There are so many great leaders and changemakers in our community. What's it been like to go to be out in the community and get to meet new business leaders or new employees that are coming through and just being a part of what we're trying to do collectively?
LG:
I want people to know me as a person. I love doing what I did for 19 years in the major leagues. But it wasn't going to last forever for me. That's why I was always trying to engage with people and meet people and try to extend my arm out.
I love doing stuff in the community. This is where we live. This is where we want to be. We want to grow this together. We want to make this one of the best states in the country. We have to kind of do it together.
That's what's so special about working for the Diamondbacks. We're so involved in the community, giving back. The main goal for our organization, of course, is to try to win championships, but it's also about making impact.
Having the brand and being one of the four major sports teams here in the valley, you can reach a lot more people. Sometimes, a small donation of $5,000 or $10,000 from the organization, it's huge for these little companies or charities.
It's about finding the right people. Engaging ourselves with the right organizations that we feel are going to make a huge difference in a lot of people's lives.
Our community outreach that we have with the Diamondbacks has been phenomenal since I was a player. Now it's grown even further to do so many great things. When your team is recognized as an organization or leader of the community that goes out there and still impacts people's lives, that's what's special to our owner and to our president and to everybody in the company.
STN is creating a better local media experience
Check out the full episodes, action panels, blogs and more from our brand new show, It Happens at STN.
Get our latest stories right in your inbox.